Get started
Bring yourself up to speed with our introductory content.
Testing a SUSE Linux 10 connection
Once SUSE Linux 10 is installed, the Linux enterprise system now gives you the opportunity to check for service updates right away.
Taking a page from the "other" operating systems, SUSE Linux 10 now enables you to run the update service as soon as the system has been installed (see Figure 1-26). Online updates are discussed in more detail in Chapter 9 and are not discussed here as part of our sample installation. If you are feeling adventurous, then testing your Internet connection and running the online update is a good idea, but it is not necessary as part of the installation process. Click Next after you have made your choice.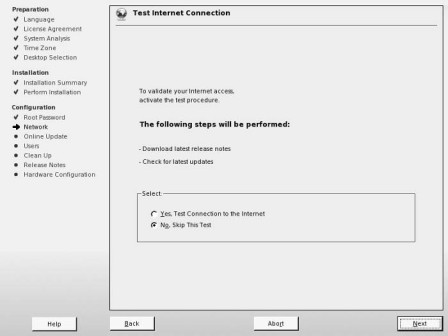 Figure 26


Running your SUSE Linux 10 installation

Home: Introduction
Step 1: Configuring your root password
Step 2: Configuring your network access
Step 3: Setting up your host and DNS addresses
Step 4: Configuring the default gateway
Step 5: Testing your connection and online updates
Step 6: Configuring your modem
Step 7: ISDN and ADSL connections
Step 8: Adding a new user
Step 9: SuSEconfig
Step 10: Reviewing the release notes
Step 11: Configuring your hardware
Step 12: Graphics and sound card configuration

The above tip is excerpted from from Chapter 1, "Installing SUSE 10" our original excerpt of The SUSE Linux 10 Bible by Justin Davies, courtesy of Wiley Publishing. This chapter explains how to successfully install SUSE 10 on your box. Find it helpful? Buy it on Amazon.
Dig Deeper on Desktop management, sales and installation