Get started
Bring yourself up to speed with our introductory content.
Running a SUSE Linux 10 installation
Once your SUSE Linux 10 installation is complete, follow these steps to make the Linux operating system run properly in a client's shop.
Now that you've installed SUSE 10 get steps for configuring and running it.
When you've made any changes to the installation, select the Accept button in the Installation Settings window, and the installation process begins. You will be asked if you definitely want to create the partitions you defined and the filesystems that sit above them (see Figure 1-20). Partitioning the disk is a destructive process and will remove any data that those partitions replace.
This is your last chance to abort your installation without making any changes to your disk. You should continue only if you are sure that the selected settings are correct. If you are installing SUSE Linux 10 for the first time on a new computer system, you have nothing to worry about. If you are installing SUSE Linux 10 on an existing computer system on which you need to preserve existing data, double-check your settings before proceeding. You can double-check that your partitioning scheme is, in fact, correct for your environment and make changes as necessary by selecting Partitioning from the Installation Settings screen Then triple-check your selections before proceeding.
Selecting Install will destructively create the partitions and filesystems and installs the packages you selected.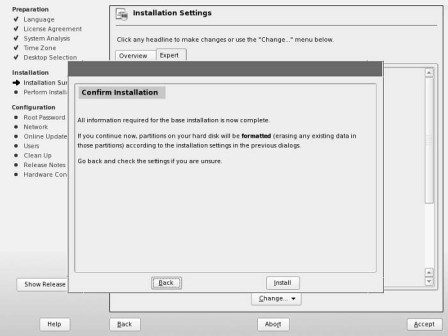 Figure 1-20
During package installation, you can view the progress, the CDs needed, and also an overview of the package use by selecting the Details button. To switch back to the slideshow, select the Slideshow button.
This may be a good time to get a coffee, as nothing interesting happens while packages are installed. If you are installing from CDs, after the packages from CD 1 are installed, the system will automatically reboot itself to use the specific kernel for your architecture, as well as to commit packages installed on the system. If you think back to the discussion of the install boot options at the beginning of the chapter, you will remember that the default is to boot off the hard drive first. This helps a lot if you leave the install media in the drive and are drinking your coffee in another room.
When the system has rebooted, YaST asks you for the remaining media to install the rest of the packages. In the case of a minimal installation, or all packages being installed, YaST proceeds automatically to the system configuration.


Running your SUSE 10 installation

Home: Introduction
Step 1: Configuring your root password
Step 2: Configuring your network access
Step 3: Setting up your host and DNS addresses
Step 4: Configuring the default gateway
Step 5: Testing your connection and online updates
Step 6: Configuring your modem
Step 7: ISDN and ADSL connections
Step 8: Adding a new user
Step 9: SuSEconfig
Step 10: Reviewing the release notes
Step 11: Configuring your hardware
Step 12: Graphics and sound card configuration

The above tip is excerpted from from Chapter 1, "Installing SUSE 10" our original excerpt of The SUSE Linux 10 Bible by Justin Davies, courtesy of Wiley Publishing. This chapter explains how to successfully install SUSE 10 on your box. Find it helpful? Buy it on Amazon.
Dig Deeper on Desktop management, sales and installation