Get started
Bring yourself up to speed with our introductory content.
Reviewing SUSE Linux 10 release notes
When SuSEconfig has finished its initial installation, you will be shown the SUSE release notes.
When SuSEconfig has finished its initial installation, you will be shown the SUSE Linux 10 release notes (see Figure 1-29). These notes contain general information about changes from previous versions of SUSE Linux, as well as a technical overview of the previous version. This file also provides errata from the SUSE Linux 10 manual and is worth a read to get a general idea as to what has happened since the last release. Ninety percent of users at this point have not touched the included manuals with SUSE, except perhaps to move them out of the way when locating the installation media, so this at least gives you an introduction to the features and functionality of the product.

Download this free guide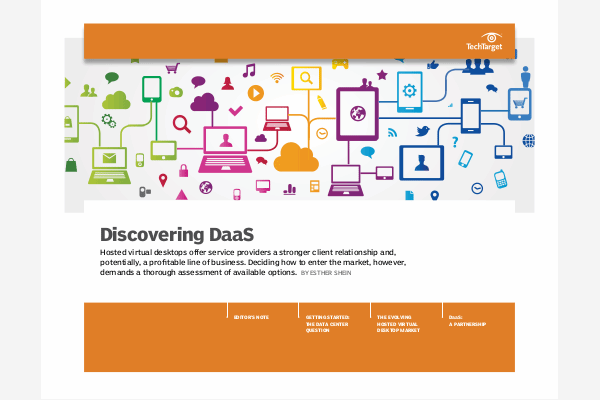 New Guide: How DaaS Benefits Managed Service Providers
This guide helps channel partners address the emerging desktop-as-a-service (DaaS) opportunity. Learn where MSPs should get started, explore the evolving hosted virtual desktop market, and find out what kind of customers could benefit from DaaS.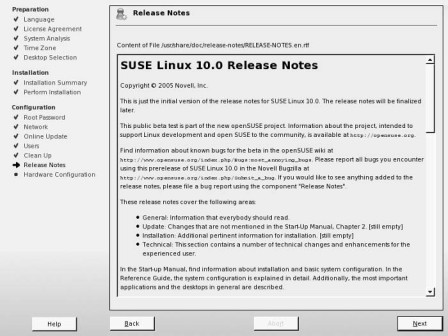 Figure 29


Running your SUSE Linux 10 installation

Home: Introduction
Step 1: Configuring your root password
Step 2: Configuring your network access
Step 3: Setting up your host and DNS addresses
Step 4: Configuring the default gateway
Step 5: Testing your connection and online updates
Step 6: Configuring your modem
Step 7: ISDN and ADSL connections
Step 8: Adding a new user
Step 9: SuSEconfig
Step 10: Reviewing the release notes
Step 11: Configuring your hardware
Step 12: Graphics and sound card configuration

The above tip is excerpted from from Chapter 1, "Installing SUSE 10" our original excerpt of The SUSE Linux 10 Bible by Justin Davies, courtesy of Wiley Publishing. This chapter explains how to successfully install SUSE 10 on your box. Find it helpful? Buy it on Amazon.
Dig Deeper on Managing mobile devices in the enterprise