Get started
Bring yourself up to speed with our introductory content.
ITIL guide: Best practices, implementation and training
This Information Technology Infrastructure Library (ITIL) guide has all you need to know about ITIL best practices, implementation, certification, training and tools. Learn about the ITIL framework and IT change management from our compilation of resources in this guide.
Our Information Technology Infrastructure Library (ITIL) guide is a collection of resources to help you understand how to implement and take advantage of the ITIL framework.

Download this free guide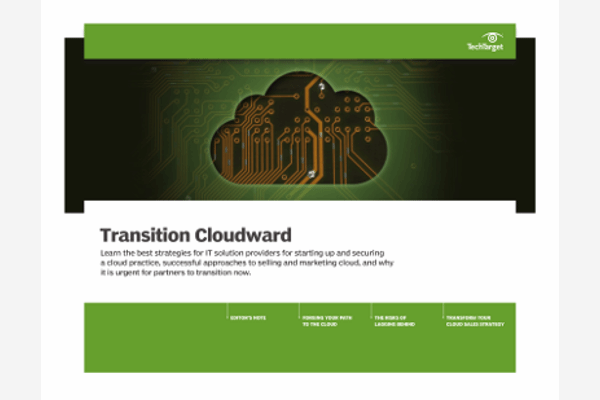 Could Securing Your Channel Business Be Easier? We Can Help.
Download our latest guide to the top strategies solution providers can leverage for starting up and securing a cloud practice, successful approaches to selling and marketing cloud, and why it is urgent for partners to transition now.
ITIL's version 3 is designed to provide best practices for IT service management (ITSM), change management and infrastructure management. Desktop performance, certification, the use of ITIL for configuration management as well as changes in the focus and adoption of ITIL are among the concerns you'll learn about below.
Resources include expert tips, news articles and special reports that provide information on the basics of ITIL and ITSM, ITIL versions, tools and training.
ITIL best practices
How network management can use ITIL best practices to battle recession
Implementing ITIL best practices can help clients survive a tough economy. Adopting ITIL holistically will take significant time and effort, but you don't need to deploy ITIL in its entirety. A company's network team can take advantage of ITIL best practices one at a time.
Top five reasons to start using ITIL and ITSM today
ITSM best practices can help you provide business value, improve service quality and save money. But the sometimes misunderstood frameworks, including ITIL, cause some CIOs to shy away, fearing complexity and cost. Finding the best ways to maximize these goals while putting forth the least amount of resources is crucial to getting the most out of your ITSM and ITIL initiatives.
ITIL best practices for enterprise CIOs
This CIO Briefing delivers expert advice and resources on ITIL, including case studies, product overviews and trend articles on the strategies, execution, tools and technologies behind successful ITIL use.
ITIL v3 planning and benefits
ITIL v3
While previous versions of ITIL focused on procedures, such as deployment and maintenance, ITIL v3 treats an IT department as a utility that delivers services to the rest of the company.
How Allstate used ITIL to achieve IT and business alignment
The geeks are gone at The Allstate Corp. No, they haven't traded in their pocket protectors for iPhones, but because of the company's ITIL initiatives, they're now perceived as part of the business and not just the people you bug when your email goes down.
ITIL v3 contributor reflects on IT's changing focus
Author David Cannon discusses how ITIL v3 reflects the current trend of taking a lifecycle approach to IT services -- from requirements gathering and development to deployment, maintenance and, eventually, retirement.
ITIL v3: Tackling the beast
There are three major ITIL v3 concerns when implementing the framework into an organization.
Midmarket slow to adopt ITIL version 3
Analysts say the actual reception to ITIL v3 by CIOs has been more muted than expected for such a purportedly significant revision.
ITIL v3: What it is and why you should care
This paper explains ITIL by describing its benefits, where it comes from, why you need to know about it, which types of IT organizations can benefit from using it and how to get started.
ITIL implementation and planning
Targeted IT communications key to ITIL implementation success
Many organizations realize far too late that even if they designed the best possible ITIL processes and automated them with the top technology, they still need people to drive them. To ensure that people are not forgotten in an ITIL implementation, an organization must look outside the technology and address the need for better communication.
ITIL: Top five tips to kick-start your strategy
These tips from ITIL expert Brian Johnson will help you get started with implementing ITIL by offering advice on change management, breaking culture barriers and ITIL governance
Ten ITIL implementation mistakes and fixes
The IT Infrastructure Library is implemented to change and improve processes within companies. But organizations often make mistakes within the first year of an ITIL implementation, and you can find out how to avoid them.
Mistakes users make implementing ITIL
Learn how to overcome common mistakes that organizations make within the first year of an ITIL implementation.
Dig Deeper on Server management, sales and installation