Get started
Bring yourself up to speed with our introductory content.
Graphics and sound card configuration with Linux SUSE 10
Complete a SUSE 10 installation with the final steps in this book excerpt.
Graphics Card Configuration
As you have changed the resolution of your monitor, you will also need to change the resolution of your graphics card to reflect the monitor settings. To do this, click on the resolution (in Figure 1-30, this is 800 × 600). You will be presented with a small drop-down box asking you for the resolution you wish to run X with (see Figure 1-32).
Configuring Your Sound Card
YaST will detect the sound card and will set it up automatically. During a standard installation, you are not required to intervene in this process; it just happens. In almost all cases, that is all you need to know. The rest of this section concerns what you can do after installation if it turns out that sound was not configured correctly during the installation.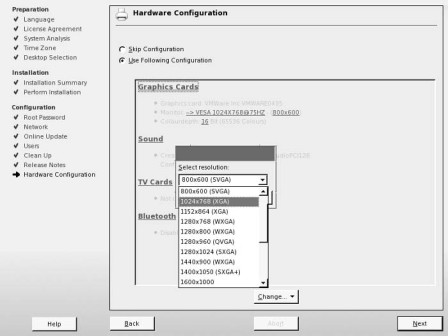 Figure 32
After the installation is complete, confirm that sound is working by attempting to play a music CD or music file (for example, an MP3 file using the xmms player program). If you don't hear sound at this stage, first check the physical connection to the speakers. Then (if you are using KDE) check that the KDE volume control is at a sensible setting and not disabled or turned down to zero. In the unlikely event that sound still fails to work, you can rerun the YaST sound module in expert mode. The sound module is found in YaST's Hardware section. You will find three possible setup modes:
Quick automatic setup: This is the default and is the one that is used during installation.
Normal setup: This enables you to test the sound card. There is a volume control and a test button. When you have set the volume, a test sound is played when you press test.
More detailed installation of sound cards: If you choose this option, you will be taken to a screen where any configurable options for the particular sound card that has been detected can be set. Depending on the particular card, these may include settings to enable a joystick and MPU (midi processing unit) port settings.

If even experimentation with the detailed installation options fails, you can try the low-level alsaconf program. As root, type alsaconf to start the program. It is a textbased program that, in fact, provides the back end for YaST's sound configuration module, but running it standalone gives you the opportunity to use its command-line options, including alsaconf –l, which writes a log file to /tmp/alsaconf.log that may give a clue as to the problem.

The ALSA (Advanced Linux Sound Architecture) home page can be found at w w w .alsa-project.org. This is the best place to start if you have any difficulties with configuration of sound on Linux.


Running your SUSE Linux 10 installation

Home: Introduction
Step 1: Configuring your root password
Step 2: Configuring your network access
Step 3: Setting up your host and DNS addresses
Step 4: Configuring the default gateway
Step 5: Testing your connection and online updates
Step 6: Configuring your modem
Step 7: ISDN and ADSL connections
Step 8: Adding a new user
Step 9: SuSEconfig
Step 10: Reviewing the release notes
Step 11: Configuring your hardware
Step 12: Graphics and sound card configuration

The above tip is excerpted from from Chapter 1, "Installing SUSE 10" our original excerpt of The SUSE Linux 10 Bible by Justin Davies, courtesy of Wiley Publishing. This chapter explains how to successfully install SUSE 10 on your box. Find it helpful? Buy it on Amazon.
Dig Deeper on Managing mobile devices in the enterprise