Get started
Bring yourself up to speed with our introductory content.
Customizing your SUSE Linux 10 installation: A step-by-step guide
This step by step guide will offer advice on tailoring SUSE Linux 10 to your exact needs.
To be able to get a broader overview of what you can change in the installation, click the Expert tab. This displays all available options rather than the few shown in the Overview tab.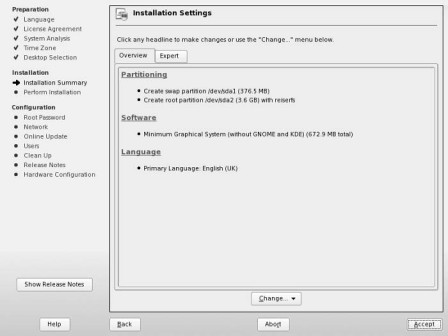 Figure 1-8
Clicking any heading in the Installation Overview section enables you to modify that aspect of your installation. Similarly, selecting the Change button displays a pop-up menu from which you can select any of the headings on this screen to change or examine the relevant aspects of the installation to guarantee that they meet your requirements.
System: Displays a dialog box showing the hardware that the installer detected in your system. You cannot change these values.
Keyboard layout: Select the keyboard set used for the system and the installation process.
Partitioning: One of the most important aspects of installing a Linux system. Partitioning configures the target hard drive for the installation of an operating system.
Software: Selection of predefined software profiles, as well as individual software packages.
Booting: Configuration of the Linux boot loader. The boot loader bootstraps a loader at bootup that enables the user to boot not only Linux, but also any other operating systems in the system.
Time zone: Set the time zone of the system based on either your location or specifically setting the GMT offset.
Language: Set the language of the system and also the installation process. This was already set earlier in the installation process.
Default Runlevel: Set the initial boot runlevel for the system. Runlevels are discussed in Chapter 4. For now, the default value (runlevel 5) is acceptable.
Reset to defaults: Remove all changes you have made and start from scratch. This is useful for testing installation mixtures and seeing how these affect your system. This is accessible from the Change button at the bottom of the screen. Throughout the remainder of the installation, we talk in more detail about what these settings do to your system and we also discuss the ways in which you can change these settings.


Customizing your SUSE LINUX 10 installation

Home: Introduction
Step 1: Partitioning Your Disks
Step 2: Resizing Existing Operating Systems Partitions
Step 3: Primary and Extended Partitions
Step 4: Defining Filesystems
Step 5: The root partition
Step 6: Data Partitions
Step 7: Selecting Software for Installation
Step 8: Selecting a Boot Loader
Step 9: Changing the Default Runlevel

The above tip is excerpted from from Chapter 1, "Installing SUSE 10" our original excerpt of The SUSE Linux 10 Bible by Justin Davies, courtesy of Wiley Publishing. This chapter explains how to successfully install SUSE LINUX 10 on your box. Find it helpful? Buy it on Amazon.
Dig Deeper on Desktop management, sales and installation