Get started
Bring yourself up to speed with our introductory content.
Configuring hardware with SUSE Linux 10
Get steps to configure hardware after SUSE Linux 10 has finished installing itself.
When you have read the release notes, click Next and you will be asked to configure your hardware (see Figure 1-30). The YaST installer and the YaST system configuration manager runs the same modules to configure hardware. For now you will configure the video card so that you can use X/KDE/GNOME.
YaST in SUSE Linux 10 has changed the way it detects your graphics capabilities. YaST will automatically sense what your current configuration is and will then allow you to change those individual settings.
Configuring your monitor
To change your monitor configuration from what YaST detected, click on the monitor listed under "Graphics Cards." You will be presented with a list of available monitors from which you can choose (see Figure 1-31).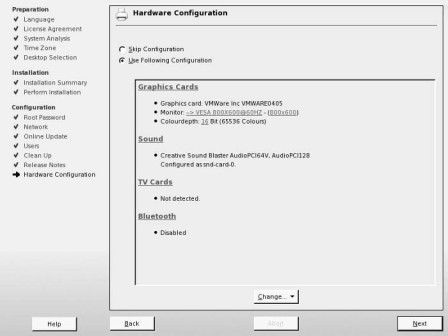 Figure 30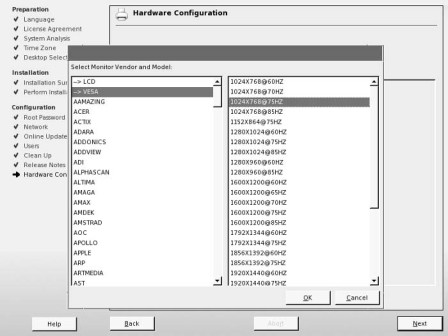 Figure 31
If your specific monitor is listed in the vendor list, select it. If not, choose either LCD (for laptop or flatscreen monitors) or VESA (for CRT monitors). It is usually a safe bet that a resolution of 1024 × 768 will be supported by your monitor.
Every Linux operating system book and piece of documentation on X Windows configuration has a disclaimer about configuring your graphics system. This book is no different because there are real dangers if you set up your monitor incorrectly. Because the graphics card drives the monitor, it is imperative that you either configure the graphics system with standard lower settings, or take a look in the documentation that came with both your monitor and your graphics card and figure out the correct settings for them. Sax2 comes with well-defined Video Electronics Standards Association (VESA) settings for general setup and also specific configurations from the major manufacturers of graphics systems. The remainder of this section discusses a low-specification graphics setup that should be safe for most people. However, you really should know how hard you can push your system so as not to damage your monitor by overdriving what your graphics card gives to it. Most of today's monitors have built-in settings to protect against hardware damage, but you should be especially careful when configuring the X Window system on an older monitor.


Running your SUSE Linux 10 installation

Home: Introduction
Step 1: Configuring your root password
Step 2: Configuring your network access
Step 3: Setting up your host and DNS addresses
Step 4: Configuring the default gateway
Step 5: Testing your connection and online updates
Step 6: Configuring your modem
Step 7: ISDN and ADSL connections
Step 8: Adding a new user
Step 9: SuSEconfig
Step 10: Reviewing the release notes
Step 11: Configuring your hardware
Step 12: Graphics and sound card configuration

The above tip is excerpted from from Chapter 1, "Installing SUSE 10" our original excerpt of The SUSE Linux 10 Bible by Justin Davies, courtesy of Wiley Publishing. This chapter explains how to successfully install SUSE 10 on your box. Find it helpful? Buy it on Amazon.
Dig Deeper on Managing mobile devices in the enterprise