Get started
Bring yourself up to speed with our introductory content.
Configuring a SUSE Linux 10 default gateway
The SUSE Linux 10 router and gateway can be configured easily following these Linux setup steps.
Next, you will probably need to configure the router/gateway for your SUSE Linux 10 system. To do this, click the Routing button. You will see a screen similar to the one shown in Figure 1-25.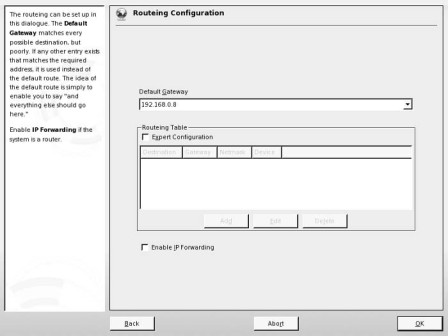 Figure 25
Your default gateway address is the IP address of the host to which TCP/IP packets that are not destined for your local network are sent for further processing. For example, your gateway address will be that of your asymmetric digital subscriber line (ADSL) router if that is how you connect to the Internet. In other cases, your network or system administrator will be able to provide you with this information.
When you have set the gateway address, click OK to proceed. You will then be returned to the Network Address Setup screen. If you are happy with the network card configuration, click Next.
When you have finished configuring all of the network cards that you need to configure, click Next in the Network Configuration screen. This tells YaST to save the changes to your network configuration and restart the system networking.


Running your SUSE Linux 10 installation

Home: Introduction
Step 1: Configuring your root password
Step 2: Configuring your network access
Step 3: Setting up your host and DNS addresses
Step 4: Configuring the default gateway
Step 5: Testing your connection and online updates
Step 6: Configuring your modem
Step 7: ISDN and ADSL connections
Step 8: Adding a new user
Step 9: SuSEconfig
Step 10: Reviewing the release notes
Step 11: Configuring your hardware
Step 12: Graphics and sound card configuration

The above tip is excerpted from from Chapter 1, "Installing SUSE 10" our original excerpt of The SUSE Linux 10 Bible by Justin Davies, courtesy of Wiley Publishing. This chapter explains how to successfully install SUSE 10 on your box. Find it helpful? Buy it on Amazon.
Dig Deeper on Desktop management, sales and installation