Get started
Bring yourself up to speed with our introductory content.
SUSE Linux 10 network configuration tips
To configure SUSE Linux 10, the second step is to set up the network interface card (NIC).
If any network interface cards have been detected in the SUSE Linux 10 system, you will be asked to configure them for network access (see Figure 1-22). By default, YaST sets the first Ethernet card it finds as your system's primary Ethernet interface and assigns it an address that is configured via the Dynamic Host Configuration Protocol (DHCP).
You can find discussions about DHCP servers in Chapter 20.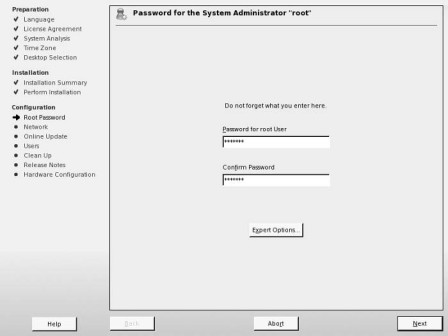 Figure 21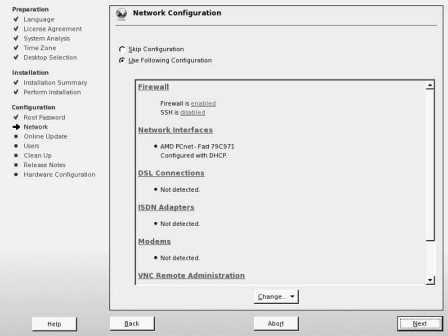 Figure 22
For most people using SUSE Linux 10 in a business environment, a DHCP server may already be running, and an address, domain name system (DNS) server list, and router configuration will already be available. Home users and users setting up a server system will find it necessary to configure these details manually. Home users with simple broadband or dial-up connections often automatically receive this information from their Internet service providers (ISPs) and therefore may not need to change these settings.
To change the network card's configuration, click "Network Interfaces" and select the network card in question (if you have multiple network cards), and click the Edit button. A screen similar to the one shown in Figure 1-23 appears. In this example configuration, we set the IP address of the network card to 192.168.0.1/255.255.255.0, with a router/gateway of 192.168.0.8 and a DNS server of 192.168.0.254. If you are unfamiliar with these terms at this stage, see Chapter 6 for additional information.
To change the network card's configuration from automatic to manual, select Static address setup. This enables you to edit the IP and subnet mask fields. As you can see in Figure 1-23, we have set the IP address/netmask to that of the SUSE Linux network configuration we talked about in the preceding paragraph.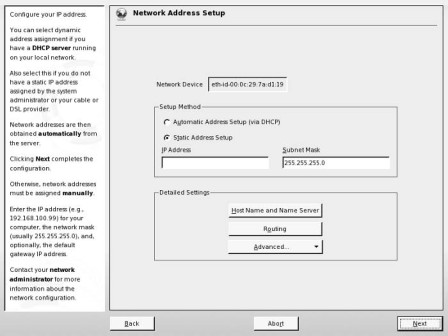 Figure 23


Running your SUSE 10 installation

Home: Introduction
Step 1: Configuring your root password
Step 2: Configuring your network access
Step 3: Setting up your host and DNS addresses
Step 4: Configuring the default gateway
Step 5: Testing your connection and online updates
Step 6: Configuring your modem
Step 7: ISDN and ADSL connections
Step 8: Adding a new user
Step 9: SuSEconfig
Step 10: Reviewing the release notes
Step 11: Configuring your hardware
Step 12: Graphics and sound card configuration

The above tip on SUSE Linux network configuration is excerpted from from Chapter 1, "Installing SUSE 10" our original excerpt of The SUSE Linux 10 Bible by Justin Davies, courtesy of Wiley Publishing. This chapter explains how to successfully install SUSE 10 on your box. Find it helpful? Buy it on Amazon.
Dig Deeper on Desktop management, sales and installation