Get started
Bring yourself up to speed with our introductory content.
Checking media for SUSE Linux 10 installation
SUSE Linux 10 will check the media your machine is running to determine if there are any replacements to make or problems to fix.
Before starting the installation process, you will be asked whether you want to check the media you are using during installation. With any mass produced optical media, there is always a possibility that something might be wrong with your disks (if there is, SUSE Linux 10 will replace them for you). The media check (see Figure 1-5) is a precautionary measure for you to check that everything is ok before formatting your hard drive and potentially being left with an unusable system until you get your new SUSE disks.
You can either skip the check by clicking Next or check your media by clicking Start Check. We will skip the check as we know our media is good.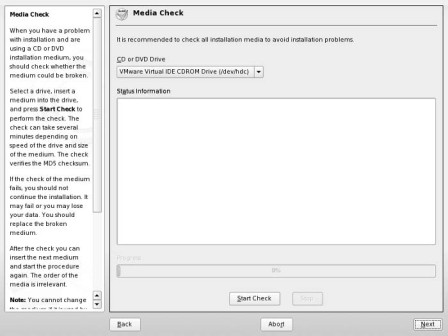 Next, as with most software products, you have to agree to the SUSE Linux 10 license before using the system.


Selecting a SUSE Linux 10 installation method

Home: Introduction
Step 1: Starting your SUSE Linux 10 installation
Step 2: Selecting boot options
Step 3: Configuring language settings
Step 4: Media check

The above tip is excerpted from from Chapter 1, "Installing SUSE 10" our original excerpt of The SUSE Linux 10 Bible by Justin Davies, courtesy of Wiley Publishing. This chapter explains how to successfully install SUSE 10 on your box. Find it helpful? Buy it on Amazon.
Dig Deeper on Managing mobile devices in the enterprise