Get started
Bring yourself up to speed with our introductory content.
Changing the default SUSE Linux 10 runlevel
SUSE Linux 10 allows you to customize the runlevel so that the services that load while the system is booting are only the ones which are useful to a customer.
Runlevels are discussed in detail in Chapter 4. As a quick summary, a system's runlevel determines the services that are automatically started when your system boots. The YaST Expert Installation Settings screen can be used to change the default runlevel of the system by clicking the Default Runlevel heading in YaST's Installation Settings panel or by clicking the Change button and selecting Default Runlevel from the pop-up menu.
As you can see in Figure 1-19, you can choose to boot your SUSE Linux 10 system in a variety of different ways: without networking functionality (runlevel 2), multiuser with network (runlevel 3), or multiuser with X Windows (runlevel 5). The default runlevel in a standard installation is runlevel 5, multiuser with X Windows. You should keep this as your default runlevel unless you have a specific reason to change it.
When you make any changes that you want to your system's default runlevel, click OK to set the selected runlevel as your system default. The Set Default Runlevel pop-up closes, and YaST's Installation Setting panel displays.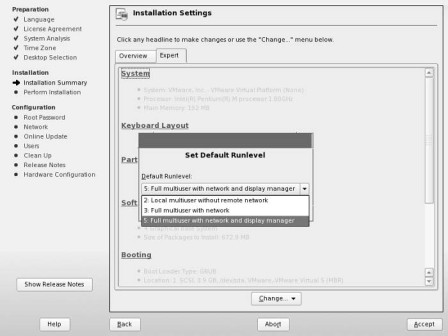 Figure 1-19


Customizing your SUSE Linux 10 installation

Home: Introduction
Step 1: Partitioning Your Disks
Step 2: Resizing Existing Operating Systems Partitions
Step 3: Primary and Extended Partitions
Step 4: Defining Filesystems
Step 5: The root partition
Step 6: Data Partitions
Step 7: Selecting Software for Installation
Step 8: Selecting a Boot Loader
Step 9: Changing the Default Runlevel

The above tip is excerpted from from Chapter 1, "Installing SUSE 10" our original excerpt of The SUSE Linux 10 Bible by Justin Davies, courtesy of Wiley Publishing. This chapter explains how to successfully install SUSE Linux 10 on your box. Find it helpful? Buy it on Amazon.
Dig Deeper on Desktop management, sales and installation