Get started
Bring yourself up to speed with our introductory content.
Adding a new user for SUSE Linux 10
This SUSE Linux 10 guide offers users an easy to follow walk through for user creation.
Just as Windows provides the infrastructure to authenticate users through a central database, the Unix world can use the Network Information System (NIS) or Lightweight Directory Access Protocol (LDAP) to store user account details. Most home users need to configure only a standalone machine and should select that option (see Figure 1-27).
Click Next to create a new local user on SUSE Linux 10, and the Add a New Local User screen appears (see Figure 1-28). Most of the information needed for creating a new user is selfexplanatory.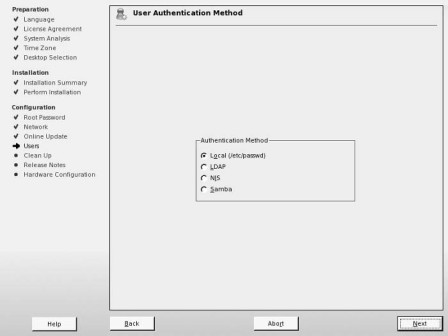 Figure 27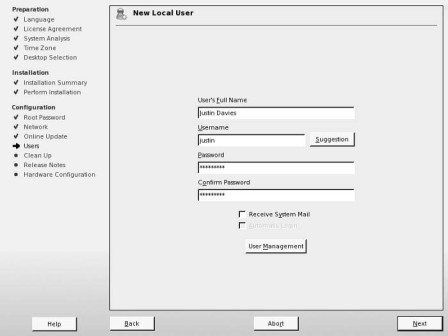 Figure 28
One nice feature of the SUSE Linux 10 user creation process is that you can set yourself as the user who receives any mail destined for root by selecting the Receive System Mail option. Regardless of whether you set up this option, it is always a good idea to read the root user mail (if you are the owner of the root user account!) to see any automated mails that the system sends as well as mails from the mail subsystem. This includes bounced emails, system errors, and package updates that have been installed.
Taking another page from Mac OS X and Windows XP, SUSE enables you to set up an account to automatically log in to the system for you when the machine boots up. For home users, this provides a simpler way to use their system, but it is impractical and insecure in business environments. For example, if you are the user who is automatically logged in on boot up, someone else can gain access to your files simply by turning the machine on.
When you have finished adding your user information, click Next to continue, and SuSEconfig will run.


Running your SUSE Linux 10 installation

Home: Introduction
Step 1: Configuring your root password
Step 2: Configuring your network access
Step 3: Setting up your host and DNS addresses
Step 4: Configuring the default gateway
Step 5: Testing your connection and online updates
Step 6: Configuring your modem
Step 7: ISDN and ADSL connections
Step 8: Adding a new user
Step 9: SuSEconfig
Step 10: Reviewing the release notes
Step 11: Configuring your hardware
Step 12: Graphics and sound card configuration

The above tip is excerpted from from Chapter 1, "Installing SUSE 10" our original excerpt of The SUSE Linux 10 Bible by Justin Davies, courtesy of Wiley Publishing. This chapter explains how to successfully install SUSE 10 on your box. Find it helpful? Buy it on Amazon.
Dig Deeper on Desktop management, sales and installation