Manage
Learn to apply best practices and optimize your operations.
XenServer 5.5 third-party tools for management and implementation
Solutions providers should learn about XenServer 5.5 third-party tools from ToutVirtual, Hyperic and Novell to help customers implement and manage virtual infrastructures.
XenServer 5.5 third-party tools help solutions providers fill in the gaps when it comes to customers' implementation and management issues.
With Citrix Systems XenServer 5.5, you automatically get the XenCenter 5.5 management tool. Although XenCenter 5.5 has many useful features, it doesn't include everything solutions providers need for their virtualization management offerings. In this article, you'll get an overview of three of the most useful XenServer 5.5 third-party tools for planning and managing a customer's XenServer environment.
ToutVirtual VirtualIQ and Provision IQ
ToutVirtual Inc. has two products that can help you manage your customers' XenServer 5.5 environments: VirtualIQ Professional and ProvisionIQ. VirtualIQ Pro offers help in each stage of the XenServer implementation process. Solutions providers can use this tool to design, deploy and deliver virtual machines (VMs) in their customers' environments. ToutVirtual developed the tool with the main purpose of designing a virtual environment, and its tools also assist solutions providers in their daily work on XenServer.
For instance, you can use VirtualIQ Pro to create policy-driven XenMotion events so that VMs are moved when a given performance threshold is passed. You'll especially appreciate VirtualIQ in a multi-platform environment, because it offers all of the major virtualization platforms, including VMware, Oracle VM, Microsoft Hyper-V and Xen on SUSE Linux.
The VirtualIQ product has a little brother called ProvisionIQ, but it doesn't offer support beyond XenServer 3.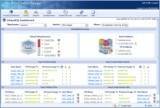 From the VirtualIQ dashboard, you can manage multiple virtualization environments.
Hyperic HQ
Hyperic HQ is a management tool by Hyperic Inc., a division of VMware Inc. The tool mainly monitors large environments, including servers that have been installed in XenServer, Web servers, database servers and virtual servers. The product was developed as an aid for huge IT environments and has features that make work tasks easier. They include automatic discovery of VMs and the creation of an inventory that makes it less troublesome for solutions providers to manage and monitor VMs. But be careful not to misunderstand the use of this tool. Hyperic HQ is a generic tool that also has a plug-in to manage XenServer environments. Therefore, if you're mainly interested in managing a XenServer environment, this is probably not the tool that you want. Also, Hyperic HQ only supports up to XenServer 4.x.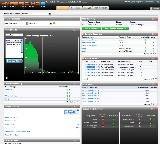 Hyperic HQ is designed to manage enterprise IT environments, but it also supports XenServer.

PlateSpin

Novell Inc.'s PlateSpin offers five products to manage virtual environments. Like the other tools discussed in this article, PlateSpin is not purely focused on XenServer, but offers management options for other platforms as well. PlateSpin is, however, developed to manage everything related to virtual environments.

One of the most interesting products offered by PlateSpin is PlateSpin Migrate -- a product that helps solutions providers with VM migrations. Originally developed to perform migrations of workloads on physical machines to virtual machines (P2V) and in the opposite direction (virtual-to-physical, or V2P), PlateSpin Migrate also has an image service to help with a VM migration. Using Virtual to Image (V2I), you can synchronize a VM to an image file, thus making it a lot easier to recover a VM when you are having problems.

Another offering from the PlateSpin portfolio is PlateSpin Recon. This tool helps solutions providers with server consolidation and virtual capacity planning. Novell developed it to analyze current workloads, and in turn, ease the planning of additional resources.

XenServer 5.5 third-party tools comparison

Overall, ToutVirtual's VirtualIQ offers a complete tool for planning virtual resources. Hyperic HQ is more of a generic tool for managing enterprise networks, but it also supports XenServer. Probably the most interesting collection of tools comes from PlateSpin, which has tools to help solutions providers with every aspect of managing a virtual environment -- from transferring workloads between VMs, physical machines and image files, to helping with resource capacity planning in complicated virtual environments.

About the expert
Sander van Vugt is an independent trainer and consultant living in the Netherlands. Van Vugt is an expert in Linux high availability, virtualization and performance and has completed several projects that implement all three. He is also the writer of various Linux-related books, such as Beginning the Linux Command Line, Beginning Ubuntu Server Administration and Pro Ubuntu Server Administration.

Dig Deeper on Server virtualization technology and services