VMware's standard and distributed virtual switches: What resellers need to know
Understanding VMware's standard and distributed virtual switches is an important step for resellers planning to offer their customers network virtualization services and VMware virtual switches. Get a reseller-level explanation of the vSphere standard virtual switch (vSwitch) and why your customers might need to upgrade to the vNetwork distributed switch (vDS).
In my recent article, Using Cisco Nexus 1000V to help network managers and VMware admins, I covered VMware's third-party switch, which is an upgrade to its distributed virtual switch. In this article, I compare VMware's standard and distributed virtual switch offerings and examine how resellers can help customers to move to the upgraded version of vSphere, which contains the distributed virtual switch.
VMware vSphere standard virtual switch
The VMware vSphere standard switch (vSwitch) is your basic "network virtualization" switch. Most of the features were required to connect the virtual machines to the virtual host and physical NIC cards so that they all have network connectivity.
The standard vSwitch was the only virtual switch available until vSphere 4 was released in early 2009. Now, there are six editions of vSphere available, with the first five offering the standard vSwitch, and only one, the Enterprise Plus edition, offering the distributed virtual switch. However, there is a lot more to the higher editions of vSphere than just the version of the virtual switch (covered in more depth below).
The standard vSwitch will offer your customers:
Layer 2 forwarding
802.1Q VLAN tagging
Multicast support
EtherChannel
Load balancing
Tx rate limiting
Port security
VMsafe compatibility
Network policy groups
Netflow v5 (experimental)
CDP
Certainly, this appears to be a lengthy list of features, and the main downside to the standard vSwitch may not be realized until a company has two or more ESX Servers. I am referring to the fact that each of these vSwitches is tied to a particular ESX Server and each vSwitch is managed individually. In other words, managing standard vSwitches one by one isn't a problem when you have fewer than five. However, say that you have 10 ESX Servers, each with at least one standard vSwitch. If you wanted to change a security policy or traffic shaping configuration across all vSwitches, you would have to do it at least 10 times. Suddenly, paying more to be able to manage all vSwitches as a single, large, distributed switch becomes an investment that is worthwhile.
VMware vSphere distributed virtual switch
As I mentioned above, to gain access to the vSphere distributed virtual switch (also called a vDS, or vNetwork Distributed Switch), you must have a license for vSphere Enterprise Plus Edition. From there, you can take advantage of the following features:
Centralized configuration for all network switch ports, across the entire virtual infrastructure.
Ethernet port, CDP, and Netflow statistics that go with a virtual machine as it moves from one ESX Server to another due to VMotion.
Network policies that go with a virtual machine during VMotion.
Rx rate limiting.
Private VLANs.
Support for third-party switches (with the only option today being the Cisco Nexus 1000-V).
In my opinion, the two most important features that are really going to sell the vDS are:
Centralized configuration for all switchports across the virtual infrastructure.
The option to use the Cisco Nexus 1000-V.
So how do you help customers move to upgrade?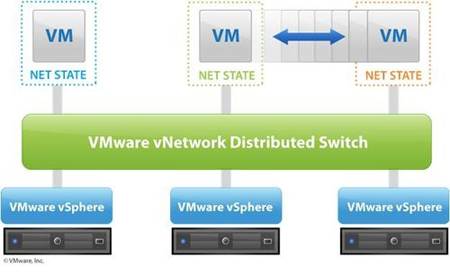 Figure 1. VMware vNetwork Distributed Switch (vDS)
Graphic courtesy of VMware.com
Help customers make the upgrade to the distributed virtual switch
Resellers are in the business of selling solutions. To do that, they have to help the customer see the value. In the past, there were many IT organizations that were willing to pay for the best of the best. Today, more and more, IT organizations are being squeezed to get the most for their money.
In all honesty, the way that the vSphere editions are packaged, the distributed switch may not be the primary reason that they upgrade to a higher version of vSphere. Before we talk about that, here are some questions you should ask your customers:
Do you have >5 vSphere servers, and is the management of standard vSwitches becoming a burden?
Do you need any of the advanced networking features of the vDS, such as statistics that follow the VM when it is moved during VMotion, private VLANs, RX rate limiting?
Is your network a Cisco network, and would you like the option of having the same functionality in your virtual infrastructure?
If your customers answered "yes" to any of these questions, the distributed switch is a need for their organizations.
As I mentioned before, it probably isn't just one feature (the distributed switch) that is going to drive them to upgrade to the highest vSphere Edition (Enterprise Plus). Most likely, it will be other features, such as:
In my opinion, the combination of features like these plus the vNetwork distributed switch will be enough to help most companies justify the additional cost of upgrading to vSphere's Enterprise Plus edition.
Takeaway for resellers
In this article, we compared what is offered by the VMware standard virtual switch and the distributed virtual switch. You found out that the "dvswitch" turns the virtual switches of the virtual infrastructure into a single virtual switch that is much easier to manage. The dvswitch also allows virtualization admins to upgrade to the Cisco Nexus 1000-V.
As a reseller, you need to be educated not only about the differences in these "virtual offerings" but about why enterprises would want to move up to the highest version of the vSphere suite in order to get this added functionality. While the distributed virtual switch is an awesome feature, I believe it will be the combination of all the features added in vSphere Enterprise Plus that will push customers to spend the additional cost for the "top of the line" virtualization offer available today.
About David Davis

David Davis is Director of Infrastructure at TrainSignal.com -- the global leader in video training for IT pros. He has a number of certifications, including vExpert, VCP, CISSP and CCIE #9369. David has also authored hundreds of articles and six video training courses at Train Signal, with his most popular course being the VMware vSphere 4 video training course. His personal website is VMwareVideos.com. You can follow David on Twitter or connect with David on LinkedIn.
Dig Deeper on Network virtualization technology and services