Problem solve
Get help with specific problems with your technologies, process and projects.
SUSE Linux Enterprise Server 11: New Xen virtualization features
Learn about the new Xen virtualization features in SUSE Linux Enterprise Server (SLES) 11 and find out how they stack up against VMware's and other competitors' features.
When Novell released SUSE Linux Enterprise Server (SLES) 10 in 2006, the inclusion of Xen virtualization was a really big deal. Over the past three years, Linux virtualization has evolved very rapidly. Therefore, you might be wondering what has changed with regard to virtualization in the recently released SUSE Linux Enterprise Server 11.
Three years ago, it still seemed a sure thing that Xen was the way to go for Linux virtualization. Even though it was rough around the edges, version 10 of SLES was among the first enterprise Linux systems to include a usable Xen stack. Since then, many things have changed. Citrix Systems Inc. acquired XenSource, the company that was founded by the people who invented Xen virtualization, and it became apparent that Xen was a decent, but complicated, virtualization offering.
Most users feel that Xen has moved away from the open source market toward Citrix. When most people think about Xen virtualization, they think about Citrix XenServer. And version 5 is available nowadays for free. Solution providers can still make money by offering the tools used with XenServer.
Another issue is that the biggest virtualization player on the market, VMware Inc., has added some new features to its latest release, vSphere 4, including paravirtualization, which was once unique to Xen. VMware has proven that it is mature and still is, beyond any doubt, the market leader in virtualization.
To make things even worse for the Xen stack, another alternative became popular in the Linux world: Kernel-based Virtual Machine (KVM). The selling point of KVM is that it is just a simple kernel module that is updated with the Linux kernel itself -- not a complex product that needs many patches. And it also offers the same major features as Xen. The fact that KVM is taken seriously in the virtualization market was demonstrated when Ubuntu and Red Hat, both major players in the Linux enterprise server market, announced that they would drop Xen as their default virtualization solution.
In response to these moves, Novell Inc. had to make a statement about its direction in the Linux virtualization market, where some interested customers are implementing Citrix XenServer and others look mostly at KVM, which is practically owned by Red Hat. Red Hat recently purchased the company that developed KVM technology and therefore is now the major player in the KVM arena.
SUSE Linux Enterprise Server 11
At first sight, the message that Novell delivers in SLES 11 seems clear: Xen is improved, and there is better integration of Xen in the server software. For instance, there are now installation patterns for a Xen virtualization host, a fully virtualized guest machine and a paravirtualized guest.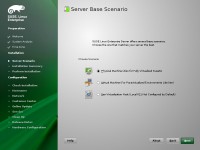 While installing SLES 11, you can now select from three different installation patterns that are all related to virtualization.
Also, SLES 11's networking configuration is much improved. By default, Xen uses a network bridge, which could be managed only with scripts until last year's release of SLES 10 support pack 2. You can manage SLES 11 by using the SLES generic management utility -- YaST. In addition, the graphical part of Xen management has improved somewhat, though it is not spectacular. The virt-manager utility is still the default management tool, which administrators who are used to managing VMware or Citrix XenServer will find to be a very limited utility.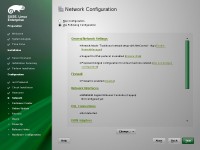 The Xen virtual network bridge can now be managed easily from YaST.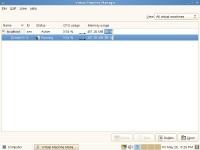 Virt-manager, the default management tool for a Xen environment, has improved only slightly.
Despite the small improvements in Xen, the real change in SLES 11 virtualization is found in a product that is not supported by Novell. SLES 11 now includes a technology preview version of KVM. During the launch of SLES 11 in the Netherlands, Kai Dupke, senior product manager for outbound server at Novell, said the preview is just to show customers that KVM is also available in SLES. Novell doesn't want people to choose another distribution just because they aren't aware of KVM. Dupke could not make any promises with regard to the future of Xen in SLES.
"The market seems to want KVM as the Linux virtualization solution, and if that is [true], we will offer KVM," Dupke said. So the virtualization issue has not been settled yet in SLES. I am already looking forward to the release of SLES 12, probably coming in 2012.
About the author
Sander van Vugt is an independent consultant from the Netherlands. He is an expert in Linux high availability, virtualization and performance and has completed several projects on successfully combining these three areas. He is also the author of several Linux books, including Beginning the Linux Command Line, Beginning Ubuntu Server Administration and Pro Ubuntu Server Administration.
Dig Deeper on Desktop management, sales and installation