Problem solve
Get help with specific problems with your technologies, process and projects.
Providers must address top cloud computing issues to succeed in 2013
After many high-profile blunders last year, cloud providers must overcome customers' concerns to gain mainstream traction in 2013.
In addition to the legions of cloud provider startups carving out their places in market, major technology companies such as VMware, Citrix, Microsoft, Google and Apple have also made a big push into cloud services. But after so many high-profile blunders last year, providers have to overcome customers' concerns to gain mainstream traction in 2013.

Apple's iCloud has had its share of problems, for example, and even cloud provider giants such as Amazon have struggled to ensure uptime for their cloud services, causing big customers such as Netflix, Instagram, Heroku and Pinterest to suffer outages. Amazon had a particularly tough year in 2012 with a number of cloud failures, some even causing permanent data loss to its customers. To find out whether the cloud market can still succeed in light of such major missteps, we have to take a deeper look into some cloud computing issues getting in the way of adoption.
Downtime expectations and SLAs
Cloud providers have to get customers more comfortable with downtime. Inevitably, there will be some downtime in the cloud (at least for the foreseeable future), but the truth is that customers experience downtime in their on-premises environments as well. Cloud providers have to better manage expectations and have service-level agreements (SLAs) in place to provide service credits for customers that do experience downtime. However, monetary compensation for the monthly invoice might not be enough. Will cloud providers ever cover potential business loss? We have yet to come across one that does.
The benefits associated with being in the cloud, such as cost savings and agility, must outweigh the risks associated with downtime. The scale to weigh this decision will be different for every customer. In order to see mainstream adoption in 2013, cloud providers should revise their SLAs, put the appropriate business insurance in place and become more transparent about any downtime experience over the last 12 months.
Stamping out cloud security concerns
Cloud providers have to get customers more comfortable with downtime.
Will data and business critical applications in the cloud be safer with a cloud provider? Actually, chances are they will be. Some government agencies and enterprises will certainly have the budget, resources and capabilities to focus on security, and these organizations will likely have a very secure on-premises infrastructure. However, that is not the case for most companies, and it certainly isn't a core competency.
Cloud providers focus heavily on security and understand the importance of it for decision makers that cite it as one of the top cloud computing issues. Relative to most businesses in the U.S., cloud providers could provide a more secure environment. Just because data sits in a cloud provider's data center doesn't make it less secure. Some providers even offer multiple layers of security at the physical, network and virtual machine levels. Furthermore, they have audits and processes in place to ensure a robust compliance environment. Not many businesses have 24/7 monitoring of infrastructure or virtual firewalls that work in sync with the virtual InfiniBand.
Cloud providers take security seriously, and their cloud environments are often more secure than an average on-premises environment. Still, cloud providers need to constantly innovate and add to their security environment in order to realize more mainstream adoption in 2013.
Find real cost savings
There has been a lot of debate on the Web about the true return on investment (ROI) in the cloud. Naysayers argue that, ultimately, the cloud is actually more expensive than traditional IT models and that they have yet to see an article that drills down on the specific cost savings in an actual large-scale deployment. Cloud providers need to hit this head on by publishing data around cost savings realized by customers in the cloud.
To address cloud computing issues and concerns around cost, some providers are adding total-cost-of-ownership and ROI calculators to their websites. Microsoft is putting its weight behind this as well by publishing case studies on specific large-scale deployments where customers have cut costs by more than 50%. In order to see more adoption in 2013, cloud providers need to educate customers on cost savings by publishing more case studies, in addition to hosting more webinars on cost savings and other benefits in the cloud. Aside from ROI, additional benefits that cloud providers can highlight include the following:
Average price per seat can be less than half of the average cost of purchasing and using equivalent hardware and software, in terms of total cost of ownership.
Service costs and storage footprints can be reduced by more than 50%.
Cloud providers' disaster recovery strategies can meet stringent recovery time objectives and recovery point objectives, some needing less than three hours for a full recovery.
Customers can save up to 80% on power consumption by moving from a traditional IT delivery model to cloud-based infrastructure.
Businesses can also use the cloud to reduce recurring operating expenses, including IT service subscriptions and overall technology purchases.
Cloud can improve workforce productivity by reducing the maintenance workload on IT departments, enabling them to focus on more important projects.
Some providers can offer enhanced internal management control of IT systems.
The cloud also offers greater operational flexibility, enabling productivity from anywhere.
If cloud providers can overcome these big cloud computing issues by reducing downtime, further enhancing security features and policies, and continuing to educate potential customers on ROI in the cloud, 2013 will be year of mainstream cloud adoption -- finally!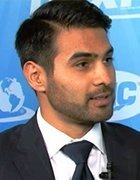 About the author
Saad Shahzad is chief strategy officer at dinCloud, a Los Angeles-based cloud provider that sells Infrastructure as a Service, hosted virtual desktops, cloud storage and cloud-based disaster recovery services. Follow @dinCloud on Twitter.