Problem solve
Get help with specific problems with your technologies, process and projects.
PIX firewall configuration - Configuration
as
The configuration
When you boot up your PIX firewall for the first time, you should see a screen like this: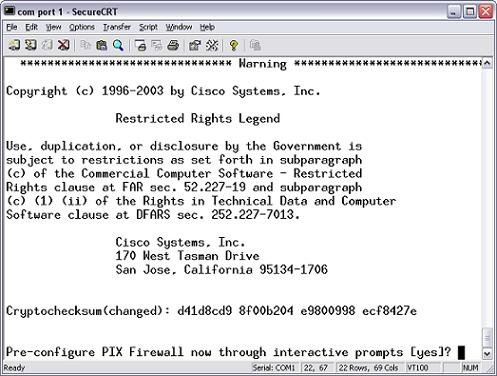 You will be prompted to answer YES or NO as to whether or not you want to configure the PIX through interactive prompts. Answer NO to this question because you want to learn how to really configure the PIX firewall, not just answer a series of questions.
After that, you will be sent to a prompt that looks like this:

pixfirewall>
With the "greater than" symbol at the end of the prompt, you are in the PIX user mode. Change to privileged mode with the en or enable command. Press "enter" at the Password prompt. Here is an example:
pixfirewall> en
Password: 
pixfirewall#
You now have administrative mode to show things but would have to go into global configuration mode to configure the PIX.
Now, let's move on to basic configuration of the PIX:

PIX firewall configuration from scratch

Introduction
Step 1: The Basics
Step 2: Guidelines
Step 3: Configuration
Step 4: PIX Configuration
Step 5: Network Address Translation
Step 6: Firewall Rules
Step 7: Showing and Saving Configuration

About the author:
David Davis (CCIE #9369, CWNA, MCSE, CISSP, Linux+, CEH) has been in the IT industry for 15 years. Currently, he manages a group of systems/network administrators for a privately owned retail company and authors IT-related material in his spare time. He has written more than 50 articles, eight practice tests and three video courses and has co-authored one book. His Web site is HappyRouter.com.
This tip originally appeared on SearchNetworking.com.
Dig Deeper on Managed network security services