Manage
Learn to apply best practices and optimize your operations.
Managing Linux clients with System Center Operations Manager 2007 R2
System Center Operations Manager (SCOM) 2007 R2 lets you manage Unix and Linux machines, as well as Windows servers and desktops, through a single console. Find out how to import the Unix/Linux management packs and deploy SCOM.
One of the biggest challenges we face is how to manage heterogeneous environments. Most of us have Windows, Unix and some flavor of Linux running on computer systems. Operations Manager has become one of the best Microsoft systems management tools on the market. But in the past, you also needed another tool to manage a Unix or Linux environment, or you had to purchase a very expensive monitoring package that didn't have the intelligence that Operations Manager brings to Windows systems.

With the release of System Center Operations Manager (SCOM) 2007 R2, you can now manage Unix and Linux machines, along with Windows servers and desktops, with a single tool and through a single console. Microsoft has added cross-platform monitoring features to System Center Operations Manager that monitor the following Unix or Linux operating systems:
AIX 5.3
AIX 6.1
HP-UX 11i v2
HP-UX 11i v3
Red Hat Enterprise Linux Server 4
Red Hat Enterprise Linux Server 5
SUSE Linux Enterprise 9
SUSE Linux Enterprise 10
Sun Solaris 8
Sun Solaris 9
Sun Solaris 10
By using the cross-platform features, you will help meet service levels on your Unix/Linux servers by monitoring services and systems components, such as free disk space, and the performance of your servers.
To get you started with managing Unix/Linux environments, I'm going to walk you through the steps for adding these systems to Operations Manager 2007 R2. Once your systems are added, you can start managing your applications.
Importing the Unix/Linux management packs
R2 uses management packs to add new features to System Center Operations Manager. A management pack consists of rules, views and product knowledge that can help you run your systems better. To get that information into Operations Manager, you need to first import the management pack. To import the Unix/Linux management packs into Operations Manager, open your Operations Console, click on the Administration tab, right-click on Management Packs, and choose Import Management Packs.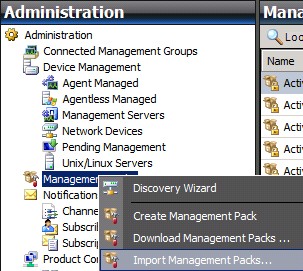 This action will bring up the Import Management Packs wizard, where you can choose to import management packs that you've created or others that are available from the Microsoft Management Pack catalog. Click on Add and choose Add from catalog.

This action will bring up the Select Management Packs From Catalog wizard. You can enter a keyword into the Find field -- for example, enter "cross" to find the Cross Platform Management Pack -- or you can leave it blank and click Search to view all of the available management packs in the catalog. Expand the Unix or Linux heading and find the version of operating system that you're using. Click on the operating system, and then click Add. When you're finished selecting the operating system management packs you would like to import, click OK.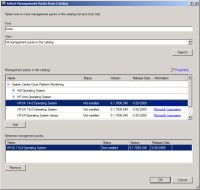 Management packs can be dependent on other management packs. If you import a management pack that has a dependency, and that dependency isn't installed on the system, the wizard will post an alert. The alert has a Resolve button; click Resolve to add the dependent management packs. Once you have all of the dependencies and management packs ready to go, click Install to import the management packs.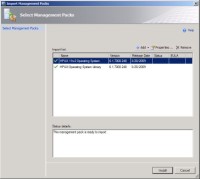 Once you click Install, the Import wizard will download and import the management packs into Operations Manager. Make sure you download and read any documentation for each management pack prior to implementing it so you can meet any prerequisites. When all of the management packs are imported, click Close to end the wizard.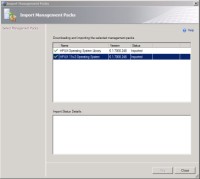 Deploying the SCOM agent to the Unix/Linux System
Prior to deploying the agent to your Unix/Linux machines, make sure Secure Socket Shell (SSH) is enabled and that the port that you've set to connect to SSH is open on any firewalls, be it physical firewalls or software firewalls, on the server. Otherwise, you'd need to manually install the agent, and you may not be able to manage the system. Open the Operations Manager 2007 R2 Operations Console, click on the Administration tab, right-click on Unix/Linux Servers, and choose Discovery Wizard.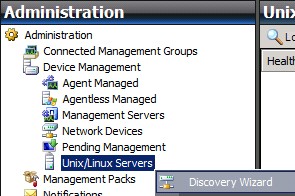 Click on Unix/Linux Computers, and click Next.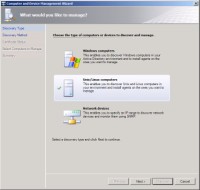 Click Add to bring up the Define discovery criteria window. Enter the IP address, DNS name or the address range for the systems you want to discover. Also enter the account information and SSH port number so SCOM can connect to your system to install the agent. If you aren't setting up a superuser, enter the user information and the root password, and the agent installation will log in with your credentials and run the SU command to perform the installation. Click OK, and then click Discover.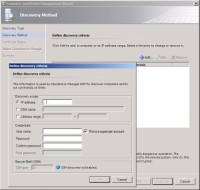 The Discovery Wizard will search for the systems you entered, and if it finds them, they will appear in the Discovery results. Select the system you would like to manage and install the agent on, or use the Select All button and click Next.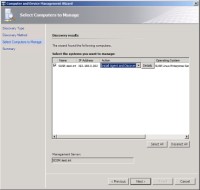 When you click Next, the Discovery Wizard will start the installation of the agent. Once the installation is finished, click Done.
You've now installed the management pack and added your Unix/Linux system to SCOM. You can begin monitoring performance, different events and applications installed on those systems. You can also use the Operations Manager Synthetic Transactions tools to monitor websites that run on your Unix/Linux platform to get a holistic view of your systems.
About the expert
Jason Kappel is an infrastructure architect and virtualization expert at Avanade Inc. Kappel specializes in enterprise infrastructure solutions around data center optimization, virtualization and systems management. He has worked with some of the largest companies in the world to implement green data center solutions and has implemented several multinational server and desktop virtualization solutions.
Dig Deeper on Server management, sales and installation