Manage
Learn to apply best practices and optimize your operations.
Manage servers remotely with open source NetDirector
Open source NetDirector provides channel professionals and their customers with an inexpensive, easy way to design network services and manage groups of Linux, Solaris or BSD servers.
NetDirector provides channel professionals and their customers with an inexpensive, easy way to design network services and manage groups of Linux, Solaris or BSD servers. This tip, courtesy of SearchNetworking.com introduces this open source tool.
NetDirector is an open source tool that allows system administrators to configure network services and maintain large numbers of Linux, Solaris and BSD servers remotely from a Web browser running on any platform. The tool is most useful to two groups of users: administrators new to Linux who prefer a graphical management interface and experienced administrators seeking an easier way to manage large groups of servers.
Relatively new on the open source scene, NetDirector was created by Emu Software and released in February 2006 under a modified Mozilla Public License at the LinuxWorld Conference and Expo in Boston. The project is a good fit for organizations with moderate server management requirements, especially those that want the flexibility to customize the code. NetDirector also works without customizations for those organizations wanting an easy server management solution.
NetDirector features
NetDirector allows the user to execute commands on multiple servers from a single Web browser to perform administrative tasks on common services. The system uses a modular design that also allows administrators to write custom code for specialized tasks. Features include rollbacks, scheduling tasks, server configuration cloning, tracking changes and granular role-based user management. NetDirector manages the following services with no customization necessary:
Samba
DNS
DHCP
TCP/IP
HTTP
FTP
Sendmail
Postfix
NFS
System Settings
Users and Groups
Rollbacks
Troubleshooting/Logs
OS/performance monitor
Refactoring -> Generic i/f
NetDirector manages the following servers:
Linux (tested with Red Hat, Novell, Debian, Mandriva and TurboLinux)
Solaris
BSD
Mac OS X
The system employs a server-agent architecture. The NetDirector server manager acts as the central repository and command center, and resides on a server devoted to management. Users connect to the server via a Web interface. NetDirector Agents are then installed on each server to be managed.
The NetDirector architecture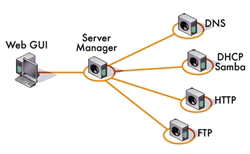 The NetDirector server manager controls the agents installed on each remote server and provides the Web interface for the user. This server maintains a database that allows the system to keep track of multiple variables necessary for securely maintaining a network of servers and services. Included is an automated installer that contains all of the components necessary to run NetDirector, which installs easily on most Linux systems in a few minutes.
A server agent resides on each server in the NetDirector system to be managed. These servers run as daemons and must have administrator rights to the services they need to access. Written in Python, server agents are designed to be lightweight and have secure access to local services on a "need to know" basis. Custom modules can be written to perform anything that is run in a shell script.
Users access the system via a rich Web interface delivered by the server manager. Administrators accustomed to a Windows environment will find NetDirector simple to use, but seasoned veterans with a love of command-line control can optionally edit flat config files.
Benefits of open source
NetDirector is a free download, and no license fees are required to use it. You can get started at the NetDirector Web site. The site features basic information about the tool, a wiki with installation instructions and other documentation, details about the license, and a list of partner projects.
The NetDirector project is also a founding member of the Open Management Consortium, promoting interoperability among open source systems management tools. Several projects have joined the consortium, promising better functionality and less vendor lock-in in the future of enterprise systems management.
Emu Software, the originator of NetDirector, offers a subscription pricing model for those organizations that prefer an enterprise version with support, future updates and advanced features. Pricing is per node, ranging from $160 to $200.
The NetDirector team is currently adding new modules for Kerberos and IPTables, as well as making improvements to the framework and user interface designs. Red Hat Network and LDAP management are currently in development for the enterprise version. To find out what the team has planned for the future, follow the "Roadmap" link off the main page.
NetDirector, with its rich user interface and ability to manage a large number of servers, is a welcome addition to the open source systems management scene. Organizations looking for an easier way to manage groups of Linux, Solaris or BSD servers should investigate the tool for their management needs.
About the author
As an open source strategy consultant, Maria Winslow assists clients in understanding the technical and budgetary impact that open source software will have on their computing environments. She is the author of The Practical Manager's Guide to Open Source and a site expert on SearchOpenSource.com.
This tip originally appeared on SearchNetworking.com