Problem solve
Get help with specific problems with your technologies, process and projects.
MSPs and VARs: Offering unified communications services for the SMB
With tiny, overburdened staffs, SMBs are seeking MSPs and VARs to offer the right mix of SMB unified communications services.
As unified communications and collaboration (UCC) applications experience rapid growth in uptake among small and medium-sized businesses (SMBs), an increasing number of small companies are seeking unified communications services that go far beyond initial implementation. That's because SMBs face a challenge -- they often have overburdened IT staff lacking the expertise to implement and integrate complex UCC applications. To make matters worse, SMBs don't have the budget to hire new IT staff.
Enter the managed services provider (MSP) and integrator. Solution providers that are able to offer a wide variety of SMB unified communications services, from assessment and integration to ongoing management and hosting, will be able to make UCC implementation entirely feasible for SMBs. And it's a win-win situation for solution providers. Building an SMB unified communications services practice can help solution providers differentiate themselves and launch a new stream of opportunities and revenue.
SMB unified communications adoption rate
SMBs are adopting unified communications at roughly the same rate as their larger counterparts. Approximately 82% of participants in the Nemertes Unified Communications and Collaboration Benchmark were planning to (or starting to) deploy UC, versus 84% of the overall pool of participants.
When it comes to deploying UCC applications other than voice, SMBs are adopting at a higher rate than the enterprise market as a whole. More than 63% of SMBs use Web conferencing and 63% said they have deployed an internal instant messaging solution, while only 52% of the overall pool of benchmark respondents said they were deploying Web conferencing and/or instant messaging.
Typically, SMBs tend to be more nimble than larger organizations and are therefore better able to take advantage of emerging technologies that help them gain an advantage in their respective markets.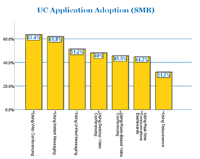 Figure 1: SMB UC Application Adoption
(Source: Nemertes Research, 2008 - click image to view larger)
Why SMBs need your help
That task of moving to UCC can seem daunting even for the largest and most sophisticated IT staffs. Many SMBs struggle with how to effectively roll out and manage these services. It follows, then, that already overburdened IT staffs within small and midsized businesses are hesitant to forge ahead with UC without some outside expertise.
Very few organizations will be able to start with a clean slate and architect a single-vendor UCC solution. Typically, they must integrate new UCC solutions with a mix of TDM and IP-phone systems, disparate IM platforms, and possibly a mix of hosted and owned conferencing tools they are already using.
SMB unified communications services: The scope of opportunity
The complex architecture and integration creates a huge opportunity for UC service providers. Fifty percent of SMBs define UC professional services as vital. That number jumps to 75% among SMBs with fewer than 250 employees. It's probably not too surprising that the smaller an organization, the more likely it is to rely on third-party support.
SMB need for professional services depends on many things, including the existing in-house skill set and the complexity of the products they're deploying. Sixty-four percent of SMBs will use design and engineering services, and 71.4 % will use a third party to assist with implementation.
Twenty-one percent of SMBs are also interested in assessment services. Specifically, they're seeking assistance in assessing their current network infrastructures for the upgrades that may be required before they begin to implement new UCC applications.
SMB unified communications services from the ground up
When it comes to UC management, VARs and MSPs should encourage customers to include a management strategy at the earliest planning stages. If the decision is made to manage in-house, part of the vendor selection criteria should be based on the management tools that are offered and the ability to integrate third-party tools. If the decision is made to outsource management, the provider that helped with integration and planning is likely to be top of mind.
On average, 12% of SMBs are turning to third-party professionals to manage all or some of their UC applications. That number is up from the 7% we saw just last fall. In addition, 13% use a combination of both in-house and outsourced expertise. This rapid increase in managed service adoption for communication and collaboration services reflects the increasingly critical role these applications play, as well as the growth in their use.
Organizations that use managed services tend to rely on systems integrators, carriers and large value-added resellers. One-third of all organizations depend on smaller, regional MSPs. That number increases to almost 60% for those organizations with fewer than 1,000 employees. They prefer the local presence and security of knowing that an expert can be on-site quickly. Further, they view the MSP as an extension of their IT staff -- something they don't always experience with large, global MSPs.
SMB unified communications services get more complex with optimization
Yet we are beginning to see a shift in the type of provider that SMBs use. With the increased adoption of VoIP, unified communications and collaboration, there's been an increasing demand for network- and application-specific optimization, security and specific application performance management.
These requirements often mean a shift from single-solution providers to those that offer expertise in multiple disciplines, including voice, security, LAN/WAN networking, and application performance. While that trend suggests that carriers and larger integrators have an advantage, a growing number of regional MSPs have formed partnerships that allow them to deliver the end-to-end services UC requires.
Nemertes best practices for offering SMB unified communications services:
UC management requires a wide breadth of services, ranging from network optimization to application-specific management and security. Form partnerships to deliver end-to-end solutions if you can't do it independently.
Integration is a key concern when implementing UC. Management tools must be able to support a multi-vendor environment.
Extend your geographic reach. SMBs are as dispersed as their larger counterparts. Form partnerships to extend services beyond your current geographic footprint.
Provide detailed subcontracting policies. Make sure your clients understand which circumstances will cause you to outsource or subcontract, and which responsibilities belong to each party involved.
Establish strict security policies. You'll be privy to highly sensitive information (voicemail passwords, organizational directories, etc.). Maintain strict policies on the treatment of information, and outline the security provisions that are in place to prevent misuse.
Katherine Trost is a research analyst at Nemertes Research, where she focuses primarily on professional services.