Problem solve
Get help with specific problems with your technologies, process and projects.
Installing SUSE Linux Enterprise Server 11
Find out how to install SUSE Linux Enterprise Server (SLES) 11 for your clients with this step-by-step approach, sans hardware worries.
Recently, Novell released SUSE Linux Enterprise Server (SLES) 11, which it designed for better deployment in an enterprise environment.
One of the good things about an SLES installation is that you don't need to worry about hardware support. SLES 11 runs on a Pentium III 500 MHz with 256 MB of RAM and up. Hence, your hardware will be supported with many different installation types.
This article covers basic DVD installation. Even though SLES 11 is licensed software, you can download it for free at http://download.novell.com. After creating a Novell account, you may also apply for a free two-month evaluation key. The key entitles you to download updates for two months. After this period, you can still continue to use SLES 11, but you won't be able to perform automatic updates anymore.
To start the installation, just insert the installation DVD in the optical drive of your server, wait for the boot menu to show, and from the boot menu, select Installation. It sounds strange, but if you don't do this, your server will boot from its hard disk. This might not sound like useful information, but you will appreciate it when you forget to take out the DVD from the optical drive of a server located in a remote data center. The installer automatically detects the optimal settings, so after selecting Installation, just press Enter to continue.

*Select Installation from the Boot menu.
Before you start, you must accept the license agreement. Once you've done that, the installer proposes to check the installation media. You probably have better things to do than wait for this slow procedure, so just click Next without performing any media checks. The installation program will then probe your current configuration, and based on that, it will propose different installation modes. Assuming that you have nothing to upgrade yet, just select New Installation, and click Next to proceed.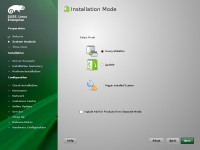 *Select New Installation to start the installation
At this point, the installation program will show you a map of the world, where you will be able to select your current time zone and specify how the hardware clock of your physical server is set. If it's on Universal Time Coordinated (UTC), make sure that the option Hardware Clock Set To UTC is selected, and then click Next to continue.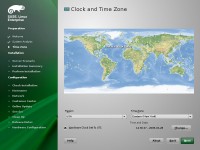 *Time is configured on your server based on your time zone and hardware clock settings.
Novell focuses on the use of SLES in the data center when it comes to installation modes. The installer will propose three different modes: Two options relate to virtual machine environments and one option selects a kernel for normal hardware environments. If you're on normal hardware or in a VMware ESX environment, select the Physical Machine option and click Next to proceed.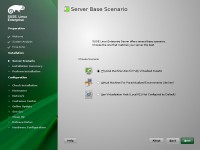 *The SLES installer offers different options for use in a virtual environment.
Next, you'll see an Installation Settings overview window. In here, a default selection of software packages and disk layout is proposed. If you agree to the selection, click Install to start the installation.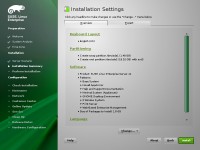 *The default installation settings allow you to start working with SLES as quickly as possible.
If you need to use specific options, you can select them from the Overview tab, or if that doesn't fit your needs, from the Expert tab. For instance, many people like to work with a custom disk layout when installing a server. To create this layout, click the Partitioning link and then select the Custom Partitioning option and click Next to continue. This brings you to the advanced and completely re-designed Expert Partitioner tool, which allows you to specify exactly what you need your server's hard drive to look like.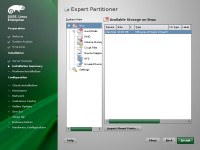 *From the completely redesigned Expert Partitioner tool, you can specify exactly how your server's hard drive is to be used.
Once you've entered the basic settings you want to work with, click Install to start the installation. Your server will start copying software to its hard disk, which will take approximately 10 minutes to complete.
After all files are copied to your server's hard drive, you will be prompted for the remaining information that is needed to complete the installation. First, enter the password for the user root. Next, enter a host name and domain name. Finally, you can configure network settings. If you don't choose to do that, it will also work if there's a DHCP server available to hand out an IP address configuration to your server. However, for a server, you probably would prefer working with a fixed IP address. To change the current configuration, click the Network Interfaces link from the Network Configuration window and then click Edit to configure the network card(s) in your server.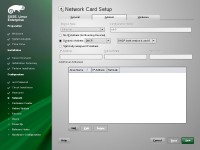 *Make sure the network card is configured in a way that allows your server to communicate properly.
Back in the Network Configuration window, you may want to consider switching off the firewall, or at least enabling SSH access to your server. Once your network is configured, continue with the remaining steps of the installation. It then activates the setup of the Novell Customer Center. Here, you will be able to enter authentication credentials in order to register your SLES 11 server with Novell. After doing that, you should immediately download updates to be sure that the server is up to date. If at this stage you haven't been able to configure networking properly, it won't be a big problem. You can just configure the customer center later by using Novell's YaST administration tool.
The rest of the installation procedure is not too hard. Basically, you can accept all default suggestions for the rest of the installation process. But, you will need to enter a user account and password when the installer asks you to create your user account. In this last phase of the installation, there are some interesting advanced options to consider. For example, when an Active Directory login using the Windows Domain option is also supported, you can choose from different authentication methods. This allows you to handle user authentication locally or remotely.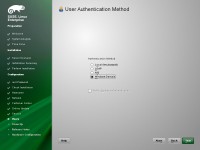 *If required, you can authenticate directly on the Windows domain.
Once all steps have been completed, the default graphical interface will start and invite you to log in. You will have the option to switch to text mode only. After this process has finalized, you are ready to begin configuration of your SLES 11 server.
About the author
Sander van Vugt is an independent consultant from the Netherlands. He is an expert in Linux high availability, virtualization and performance and has completed several projects on successfuly combining these three areas. He is also the author of several Linux books, including Beginning the Linux Command Line, Beginning Ubuntu Server Administration and Pro Ubuntu Server Administration.
Dig Deeper on Operating Systems and Software Services