Installing Citrix XenServer 5.5 and XenCenter
Solutions providers that are looking for alternatives to Microsoft Hyper-V R2 and VMware ESX or vSphere will find that installing Citrix's XenServer 5.5 is a painless process.
Downloading and installing Citrix XenServer 5.5 is an attractive service for solutions providers to offer customers. After all, this virtualization software is available for free and can serve as an alternative option for customers that want more choices than Microsoft's Hyper-V or VMware's vSphere.
The first step is to download the Citrix XenServer 5.5 software. You'll find that the product installer, Linux Guest Support and XenCenter are most essential during the download and installation process. You'll need the product installer and XenCenter at all times. Linux Guest Support is required only if you are planning to run Linux virtual machines (VMs) in your XenServer environment. Be sure to download the ISO files for the product installer and Linux Guest Support and burn them onto physical media. The best way to install XenCenter is by downloading it from a Windows workstation that you also plan to use as your management workstation. But before installing XenCenter, make sure you install XenServer.
Process for installing Citrix XenServer 5.5
Installing Citrix XenServer 5.5 is not too difficult. After you've checked that your customer has the appropriate hardware, just insert the installation CD. Next, follow the procedure described below:
1. Boot your server from the installation CD. Doing so will automatically start the installation process.


Select the keyboard layout that is appropriate for your geographical region.


From the Welcome to XenServer menu, select Install or Upgrade XenServer Host. Next, navigate to the OK key using the tab key on your keyboard and press Enter to proceed.


You'll now see a window that warns you that the installation program is going to erase everything from the server's hard drive. If you are OK with that, select OK and press Enter to continue.


Next, select Accept EULA to indicate that you agree to the license terms and press Enter. This brings you to the screen where you can start the installation. If a previous installation of XenServer was found on the server, the installation program will suggest that you "freshen" the current installation. Assuming that you don't want to upgrade, but want to perform a new installation of XenServer, select Perform clean installation, then select the OK button and press Enter to proceed.


At this point, the installation program asks where you want to install XenServer. There is no need to allocate huge amounts of storage for XenServer 5.5. You just need a small operating system (OS) disk for installation. Images of VMs are stored elsewhere.


After selecting the OS disk, the installer asks where you want to allocate space for the images of the VMs. If you are using a one-disk server, select this disk type. If the server has multiple disks, it's recommended that you select a dedicated disk to store the image files.


In the next screen, you can indicate what to use as the installation source. Assuming that you want to install from a physical CD, select CD-ROM and continue.


After selecting the installation media, the installation program asks if you want to install the Linux pack from a second CD as well. If you are planning to create Linux VMs, click Yes and then Continue.


Now the installer asks if you want to verify the installation media. This involves a rather slow disk check. In most cases, you can safely skip this and continue on.


At this point, the installer wants to know what password you want to assign to the root account. You will need this password for a local login and for connecting from XenCenter on your Windows workstation to the XenServer host. It's important to choose a secure password, because this password gives access to all the VMs.


Next, specify how to assign an IP address to the server. It's a good idea to use a fixed IP address for your server. If your Dynamic Host Configuration Protocol server doesn't use a fixed IP address by default, select the Static Address option and enter the information that applies to your network.


Now, you can specify in which time zone your server is located. First, select the geographical region and then select the city that is closest to your server (while still being in the same time zone).


Next, you need to tell your server how to use time. If the server has Internet access, it's a good idea to hook up with a network time protocol (NTP) time server. Enter the address of at least one NTP time server and select OK to proceed.


At this point, you can select Install XenServer to start the actual installation. Wait until all files have been copied to your server, which will take a few minutes.


After copying all files to the server, the installation program ejects the CD and prompts for the CD containing the Linux support files (provided that you, indeed, want to use these). Insert this CD and then continue the installation.


Once all required files are copied from the CD, the server needs to reboot. After rebooting, you'll get access to your customer's completely functional XenServer environment. You won't do much from the server console, though. Most of the configuration work is done from XenCenter.
Installing XenCenter on Windows
After downloading the XenCenter Microsoft Installer package from the Citrix website on a Windows workstation, you can start the installation immediately by selecting Run from the Windows Security warning. By choosing this option, you'll start the Citrix XenCenter Setup Wizard. In the second step of this wizard, you can indicate which versions of XenServer your customer's XenCenter should support. By default, that will be XenCenter 5.5 only, which is compatible with all versions of XenServer from 4.1 on. In case you want to manage older versions of XenServer as well, make sure to also select XenServer 4.0.
After completing the XenCenter installation, an icon is placed on the desktop of the Windows workstation. Use this icon to start XenCenter, which will also help you create your XenServer environment.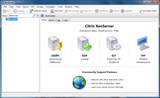 In this tip, you've learned about installing Citrix XenServer 5.5 software and the associated XenCenter. With this software, you can create your customers' virtual environments for free, thus increasing efficiency in their data centers.
About the expert
Sander van Vugt is an independent trainer and consultant living in the Netherlands. Van Vugt is an expert in Linux high availability, virtualization and performance and has completed several projects that implement all three. He is also the writer of various Linux-related books, such as Beginning the Linux Command Line, Beginning Ubuntu Server Administration and Pro Ubuntu Server Administration.
Dig Deeper on Desktop virtualization technology and services