Problem solve
Get help with specific problems with your technologies, process and projects.
Hosted unified communications and collaboration services for MSPs
Hosted unified communications and collaboration services can beef up portfolios for managed service providers (MSPs) if you can handle the challenge of integration and customization. MSPs often must scale hosted unified communications and collaboration (UCC) services to the large enterprise and provide the kind of customizable applications available through on-premise solutions.
Offering hosted unified communications and collaboration services is a strong opportunity for managed service providers (MSPs) as they evolve their portfolios, but there are challenges too. MSPs often must scale hosted unified communications and collaboration (UCC) services to the large enterprise and provide the kind of customizable applications available through on-premise solutions.
What's clear is the potential demand for hosted UCC. Recent research from Nemertes shows that 52% of organizations are interested in Software as a Service (SaaS), suggesting that now is the perfect time for MSPs to expand their hosted offerings.
Companies looking to save money will turn to hosted UCC services since they offer all the technical advantages of on-premise UCC applications without the large capital investment. In the hosted scenario, the hardware and applications software sit at the provider's data center, where all of the management and monitoring also take place. For customers, that means no need to purchase equipment except for VoIP phones or cameras for video conferencing. Even then, some service providers lease all the hardware.
What's more, hosted UC services enable enterprise users to take advantage of redundancy and backup that would be costly to maintain on premise. As the service provider, you handle implementation, configuration and customization, and then updates and enhancements over time. Your customers simply pay the monthly bill.
Hosted unified communications and collaboration services for the large enterprise
In the past, Nemertes saw primarily small and medium-sized businesses (SMBs) under 1,000 seats buying hosted UCC services. This wasn't for lack of demand from large enterprises but because most of the hosted services available didn't scale to meet their demands. Those that did provide services to the enterprise often did not have the global coverage required. We expect that to change and already see more large enterprises evaluating and adopting services as providers expand their offerings and global reach.
Conferencing leads the way in collaboration services
Although organizations of all sizes can be slow to adopt some hosted services, such as VoIP, that is not the case when it comes to audio, video and Web conferencing. Sixty-one percent of the organizations that Nemertes works with use hosted Web conferencing. There is also much interest in hosted audio and video conferencing.
An organization's decision to use a hosted Web conferencing tool instead of operating its own Web conferencing server is often based on cost and the ability to easily support external participants. This is especially true for SMBs that may have limited staff and budget to manage an internal server.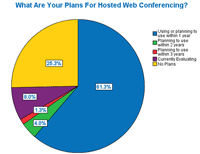 Figure 1: Hosted Web Conferencing Plans
(Source: Nemertes Research, 2008 - click image to view larger)
Easy roads to hosted unified communications and collaboration services
Within the past couple of years, software-centric providers began making forays into offering hosted UCC applications -- and asking partners to drive sales. Microsoft, IBM and Google have expanded their collaborative email and calendaring offerings to include additional communication services. To attract and assist resellers, they've designed strong training programs. All three companies have developed on-line tools and resources and offer training to support MSP sales efforts.
The problem with hosted VoIP
There has been strong enterprise interest in hosted conferencing and other collaboration/communications services, but we still haven't seen anywhere near that level of interest in hosted VoIP. Hosted VoIP is used by only about 12.2% of organizations overall, while about 20% of SMBs say they're using the services.
SMB uptake may be flat because of an increased number of VoIP-technology vendors that now have in-house solutions aimed at smaller companies. SMBs that were once scared off by the seemingly complex VoIP systems now have choices that are almost plug-and-play solutions.
For larger enterprises, cost is often the biggest drawback to using hosted VoIP, followed by lack of service in their geographical locations. The average cost per user per month for hosted VoIP is $45. When comparing that with the cost of purchasing and operating an on-premise solution, it becomes apparent why most large organizations do not find it cost effective.
For that reason, many regional MSPs do not sell hosted VoIP solutions, nor do they want to. The bigger moneymaker for them is selling an on-premise solution and wrapping managed services around it.
Best practices in offering hosted unified communications and collaboration services
MSPs that want to offer hosted UCC services for both the SMB and enterprise market must understand user concerns and the perceived drawbacks of SaaS. Nemertes recommends using the following best practices to address these concerns up front with potential clients:
Flexibility and customization: Often a hosted service has less flexibility and fewer options in configuring the system. Also, upgrades usually wait until the provider is prepared to offer them. Differentiate yourself with customization and integration services.
Global coverage: Many hosted providers (especially VoIP providers) still do not offer the coverage area required for companies with global locations. Success with dispersed organizations will depend on your ability to offer services for all locations.
Security: Concern regarding security is still cited as one of the primary drawbacks to a hosted solution. As the customer's trusted adviser, an MSP needs to build customer confidence and ensure the reliability of the SaaS applications, while also ensuring data security and availability.
Whether you're new to managed services or ready to expand, remember this: The successful MSP will build on the SaaS offering to develop solutions for implementation, integration, customization, migration and training, as well as provide ongoing management to build recurring revenue opportunities.
Katherine Trost is a research analyst at Nemertes Research, where she focuses primarily on professional services.
Dig Deeper on Voice and unified communications