Problem solve
Get help with specific problems with your technologies, process and projects.
Desktop and application virtualization choices
Desktop and application virtualization options represent a market with huge growth potential. Find out about the various alternatives to a more efficient desktop architecture so you can guide your customers toward smart purchasing decisions.
Service provider takeaway: Service providers can choose among a multitude of options for customers that want to take advantage of desktop and application virtualization.
As adoption of server virtualization continues to increase (90% of large enterprises and 70% of small and medium-sized businesses have implemented some degree of server virtualization), a significant number of IT shops are beginning to look at virtualizing desktops and applications as an extremely promising next step. In fact, I have talked with quite a few organizations where server virtualization is used for only a small percentage of servers, but the IT staff has gotten so excited about desktop virtualization that they want to jump ahead to it before virtualizing their remaining servers.
To take advantage of this market, service providers need to understand why these technologies are gaining such strong interest from IT. Knowing how to help customers evaluate their requirements, analyze which technologies best fit their specific use cases, develop their desktop/application strategy for the future, and then make smart product purchasing decisions will be key in determining which service providers succeed in this newly emerging market with huge growth potential.
To understand this space, we first have to define the various desktop and application virtualization technologies:
Server-hosted virtual desktops, also known as virtual desktop architecture (VDA) or virtual desktop infrastructure (VDI), leverage a server virtualization back-end infrastructure by defining virtual machines (VMs) that run on a server and contain virtual desktop operating systems such as Windows XP or Vista. Users connect into their virtual desktop from a thin or rich client over the network and through a connection broker/manager. Virtual desktops can be defined as dedicated (each user always connects to the same desktop) or pooled (users connect to a pool and make use of a generic desktop; when they disconnect the desktop goes back to the pool for reuse).
Client-hosted virtual desktops run on a virtualization layer on a physical desktop/laptop and run VMs on that desktop, allowing multiple VMs running either the same or different desktop operating systems, including Windows, Mac and/or Linux.
Server-based computing, which predates server virtualization, allows applications to run on a back-end server in a shared multi-user environment (either Terminal Services or Citrix Presentation Server, now called XenApp). Users connect to their authorized applications from a thin or rich client.
Application virtualization abstracts an application away from the OS running under it, as well as the applications running alongside it. This allows an application to live in its own sandbox, with its own virtualized registry, file system and other services so that one application does not conflict with or crash another, eliminating many of the problems of desktop computing that have plagued IT support desks for years. It also allows applications that would otherwise not run on the same PC to coexist, such as Office 2003 and Office 2007.
Application streaming allows a packaged application to reside on a central server and then be streamed over the network to a physical or virtual desktop, typically into its own sandbox virtual environment. When the application is updated on the central site, all PCs that use it will automatically get the new version the next time they run the application. Applications are stored and managed centrally but execute locally on the distributed PCs, offering the best of both worlds.
Benefits of desktop and application virtualization

Next, it is critical to understand the key benefits that these technologies can bring to your customers. By leveraging the virtualization solutions and expertise they have already acquired via server virtualization, your customers can extend many of the same benefits out to desktops and applications. Managing and supporting all of the variations of PC operating systems and patches and application software versions have been long-standing nightmares for those folks in IT responsible for desktop support. Over the past 20 years, desktop management products have emerged and evolved but have still been limited in their effectiveness. With the current and emerging options in desktop and application virtualization, new solutions hold the promise to solve many of these problems in ways not possible until now.
In addition, given that the number of desktops in any company is an order of magnitude greater than the number of servers, the desktop management challenge (and thus the desktop market) is significantly larger than that of servers.
By leveraging a VDA, all software and data is kept within the data center, addressing both management and security issues. Users can connect using a thin client or even a "zero" client (which has similar functionality to a thin client but without any software on the device). This can greatly reduce the amount of time spent on both software management and user support.
Alternatively IT can choose to allow existing rich-client desktops to act as thin clients and connect to virtual desktops. This model can extend the lifecycle of the desktop devices. With little to no software used on the thin or rich client, desktop devices don't get outdated and need to be replaced every three years. In addition, a smaller amount of code at the desktop means a smaller attack surface, resulting in greater security, and there's increased security from keeping the data centralized rather than living on the distributed desktops. There are also excellent options for thin clients with a very low power draw, contributing to the green efforts in IT.
Application virtualization contributes further by eliminating many or most of the application conflicts that come from badly behaved applications. Again, this has a dramatic impact on tech support of desktop users. It may also allow applications to run in shared environments, such as Citrix and Terminal Services, previously not possible due to conflicting applications. By streaming the applications, only one copy of each application package has to be maintained, and it is streamed on demand to authorized users. Deploying a new release no longer involves remote software distribution and installation.

Re-evaluating desktop strategies

With all these new technologies and capabilities and the far-reaching ramifications and benefits, the best way for your customers to move forward is to re-evaluate their overall desktop strategy. Service providers who understand the benefits of each technology and how each applies to different use cases can help their customers think through all the options and plan their strategy for the future.
A good place for IT organizations to start is by surveying the different types of users to understand the various use cases within the organization (a draft survey is available on the Focus Consulting website to help you get started). Next, consider the different technology areas to see which best match the mix of use cases. The diagram below gives an example of technologies and use cases and how they relate to one another. Once you know which technologies best fit, then you can define the selection criteria and evaluate the available products in each area.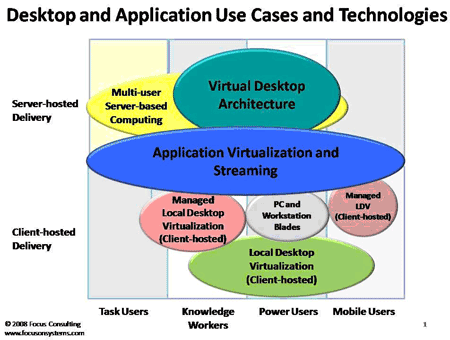 *For information on currently available products in each of these areas, refer to the Focus Landscape Report available at Focus Consulting.
Each of these areas has multiple available products to choose from, with different strengths and weaknesses to match different user priorities. The benefits can be substantial, but careful evaluation and planning are critical for success. Frequent changes in players and product features, along with complexities of implementation, make it challenging for customers to keep abreast of all the options and considerations. This area is poised for huge growth and offers great opportunities for those who understand it well and can help their customers navigate the complicated landscape, make smart buying decisions and then implement it all well.
For more information
Focus Consulting has just completed a major research series on desktop and application delivery alternatives. It goes into much more detail on the drivers, explanations of various use cases, user requirements and product selection criteria, technology areas and architectural approaches, available vendor solutions along with their strengths and weaknesses, technical considerations, a draft user survey and multiple user case studies.
About the author
Barb Goldworm is president and chief analyst of Focus Consulting, a research, analyst and consulting firm focused on systems, software and storage. Barb has spent 30 years in various technical, marketing, senior management and industry analyst positions with IBM, Novell, StorageTek, Enterprise Management Associates and multiple successful startups. A frequent speaker, columnist and author of numerous white papers and research studies, she recently released a book titled Blade Servers and Virtualization: Transforming Enterprise Computing While Cutting Costs, published by Wiley. Barb can be reached at barbgoldworm@focusonsystems.com.
Dig Deeper on Desktop management, sales and installation