Problem solve
Get help with specific problems with your technologies, process and projects.
Configuring Unix and Linux printers for SMBs
Configuring Unix and Linux printers may not be a priority for an IT manager in a small or medium-sized business (SMB). Help customers set up their printers by offering these printing services.
The following tip is continued from part one -- Unix and Linux printing services: Understanding SMB printer needs.
Let's assume you are using RHEL4 as your Linux distribution. Within RHEL4, there are many choices to establish printing. Here are some of the choices you have using the Red Hat Printer Configuration Tool.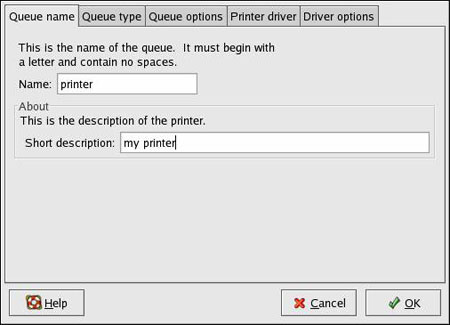 Locally-connected -- a printer attached directly to the computer through a parallel or USB port.
Networked UNIX (LPD) -- a printer attached to another Linux or Unix system that can be accessed over a TCP/IP network.
Networked Windows (SMB) -- a printer attached to a different system, which is sharing a printer over an SMB network (such as a printer attached to a PC configured as a print server).
Networked JetDirect -- a printer connected directly to the network through HP JetDirect instead of to a computer.
Since we've already determined that we will print through JetDirect, first we will create the print-queue using the Printer Configuration Tool. We would then select "Networked JetDirect" from the "Select a queue type" menu and click "Printer;" then input the hostname or IP address of the JetDirect printer.
We would then set the port number for the printer, which is listening for print jobs. The default port is 9100.
When that is done, you select your printer model after selecting the queue type of the printer is completed. The printers are divided by manufacturers. You would select the manufacturer from the pulldown menu.
With Solaris, the concepts are similar but there are different methods to configure printing. With Solaris (version 10), you can use either standard lp commands or the GUI, The Solaris Print Manager. Here is how we would configure network printing from the command-line:
1. Define the printer name and set the device to /dev/null.
# lpadmin -p test1 -v /dev/null
2. Define the interface script for the network printers; set the destination, protocol and timeout values.
# lpadmin -p test1 -o dest=nimquat:9100 -o
protocol=tcp
-o timeout=10
3. Specify the file content type to which the printer can print directly, and the printer type.
# lpadmin -p test1 -Ipostscript -T PS
4. Add a description for the printer.
# lpadmin -p test1 -D "financial system"
5. Accept print requests for the printer and enable the printer.
# accept test1
# enable test1
6. Verify that the printer is ready for printing.
I want to emphasis that it is important to understand your clients' objectives so you recommend the best printer options. The next time you set up a similar environment, configuring Samba may be a better option -- perhaps the only option if you don't have JetDirect cards -- so never be afraid to consider interoperability where possible. As always, the key to providing successful printer services is understanding customer needs and recommending the solution that aligns itself with those needs.
Read part one of this tip here -- Unix and Linux printing services: Understanding SMB printer needs.
About the author: Ken Milberg is a technology writer and site expert for TechTarget.com, providing Linux technical information and support to SearchSystemsChannel.com and SearchOpenSource.com. Ken writes and technical edits IBM Systems Magazine (Open Edition) and provides content for IBM developerWorks. He holds a Bachelor of Science in Computer and Information Science, as well as a Master of Science in Technology Management from the University of Maryland University College. He is the founder and group leader of the Long Island POWER-AIX users group. Through the years, he has worked for both large and small organizations and has held diverse positions from CIO to Senior AIX Engineer. Today, he works for Future Tech, a Long Island-based IBM business partner. Ken is a PMI-certified Project Management Professional (PMP) and an IBM Certified Advanced Technical Expert (CATE, IBM System p5 2006).