News
Stay informed about the latest enterprise technology news and product updates.
Storage managers find new capacity needs despite budget growth
While storage budgets are slowly bouncing back from the impacts of the recent recession, storage administrators still need to take new capacity demands into consideration.
Prospects are looking good for data storage managers: Storage budgets are continuing to recover from the 2008-2009 recession. It's not all good news, however: Storage managers now face having more data to deal with, and the task of finding a place to accommodate it all.
In today's conversations, the topics of storage technology spending and the impact of the long recession on most shops go hand in hand. Despite this reality, however, Storage magazine's exclusive storage Purchasing Intentions survey of 883 storage administrators shows that storage budgets this spring have been up for the fourth consecutive survey in the course of two years.
Storage administrators who participated in our survey anticipate approximately 1.8% increase in their storage budgets, while larger companies, with more than $1 billion in revenue, expected their budgets to increase by 3%. In the meantime, small businesses, which in the past suffered with negative budgets, will see a modest yet encouraging gain of 1.2%. Although the increase in budget change figures are slower than what we were used to seeing a few years ago, the trend up is encouraging.
Closely similar to what was reported last year, the average data storage budget recorded on the survey is $3 million. Unsurprisingly, the high end of this number is led by larger companies, survey respondents from those companies reported average budgets of $8.3 million.
No relief in sight for data growth
As usual, storage managers will have to find ways to wring every cent from their budgets, both to accommodate new capacity demands and to implement newer technologies that will help ease the annual capacity crunch through greater efficiencies.
Storage managers already have their hands full, with the average shop now managing 263 TB of disk capacity. That's a pretty big number and it's rising fast; it's the highest average we've seen in the two years we've asked respondents about installed capacity, and it's 5% higher than last spring. With an average of 77 TB of installed capacity, small businesses boast storage environments that would have rivaled most enterprises 10 or so years ago.
AMOUNT OF DISK CAPACITY TO BE ADDED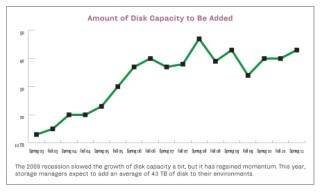 Enlarge AMOUNT OF DISK CAPACITY TO BE ADDED diagram.
And if managing more than a quarter of a petabyte of storage weren't enough, those surveyed said they'll add an average of 43 TB in 2011. After a dip in 2009 and relatively lower numbers on a couple of subsequent surveys, it looks like the capacity machine is cranking up again. Enterprise-class outfits are planning to add an average of 94 TB, midsized companies won't be far behind with plans to add 43 TB, and even small companies are looking at an additional 22 TB of disk capacity.
Disk systems: A mix of new and old techs
Most of the installed (and anticipated) disk capacity is still residing on network-attached storage (NAS) and Fibre Channel (FC) arrays. By capacity, 61% of respondents reported that they're using NAS while 59% said they were FC storage users -- numbers that are in line with the results of both of last year's surveys. But taken in a larger context, there's a slow and steady shift taking place on the block storage side, with iSCSI progressively horning in on Fibre Channel's turf. In the spring of 2008, FC accounted for 70% of installed capacity vs. iSCSI at 27%; this time, iSCSI has narrowed the gap considerably with 43% (vs. 59% for Fibre Channel).
Forty-one percent of respondents have either installed a new iSCSI system or plan to this year, a figure comparable to the results on the past few surveys, suggesting the technology has attained a level of market maturity. This trend is bolstered by the high confidence levels those users demonstrate: 47% said they'll run some of their mission-critical apps on iSCSI storage. That's the highest number we've ever seen.
The sustained interest in iSCSI storage is also reflected in how storage managers plan to divvy up their systems-buying budget dollars. Nearly half (49%) will go to midrange systems, the highest percentage we've seen, as buying plans for high-end systems continue to recede. But, as we've seen for the past four-plus years, buying new systems isn't a priority at many companies as 35% of all money going toward disk storage products is earmarked to buy additional drives for already installed systems. We expected that trend to shift back to new systems as firms refreshed their storage technologies, but it looks like the recession may have pushed those refreshes out two or three years.
File data is the fastest growing data type, but despite the increasing burden it places on most data storage operations, we haven't seen much of a shift from traditional file storage methods. In 2011, money for file storage will be spread over several technologies, with the top three -- direct-attached storage (DAS) (22%), NAS systems (22%) and NAS gateways fronting storage-area networks (SANs) (18%) -- overshadowing newer techs like file virtualization and NAS clustering.
Regardless of what type of storage a shop might be looking to acquire, the price of the product will be a major factor in the purchase decision. When we asked respondents what the most important factor was in their choice of a primary disk system vendor, features and functions (as usual) came out on top with 32%. But the next most important factor -- surpassing tech support and dealing with a familiar vendor -- was price, as indicated by 22% of those surveyed. That may not be a particularly high number, but it's the highest we've seen price rated as a factor.
Cloud gets less clear
Six months ago we saw some pretty impressive numbers for cloud storage adoption that, frankly, surprised us a bit. This time, it appears the early enthusiasm for cloud storage of primary data may be wearing off a little.
Sixteen percent of respondents said they use a cloud storage service for non-backup purposes, which is considerably lower than last fall but still an improvement of two percentage points over last spring's tally. The current numbers are actually quite good, just not as eye-popping as those from last fall. And the dip in usage may be attributable to pilot programs that were in place at the end of last year that were one-off projects or that have not evolved into production implementation.
CURRENT CLOUD STORAGE USERS PLAN TO ADD MORE SERVICES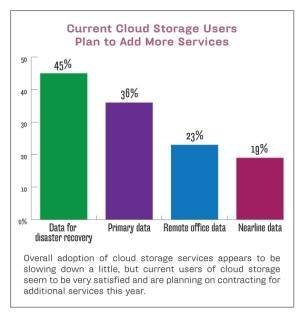 Enlarge CURRENT CLOUD STORAGE USERS PLAN TO ADD MORE SERVICES diagram.
Still, approximately 46% of survey takers said they'll start using at least one primary or nearline data cloud storage service in 2011, a figure that's also a little off from the rosier 52% recorded last fall. But cloud storage service providers should take heart from the success they've apparently had among current users. Those users seem eager to add to their cloud storage portfolios, with 45% expecting to add cloud storage for disaster recovery (DR) in 2011 and 36% expecting to add it for primary data.
Overall, considering both non-users and current cloud users, one-third plan to evaluate each of these cloud-related technologies or services:
Private storage cloud products
Hybrid storage arrays (integrated local storage and cloud storage)
Cloud-based file sharing and synchronization
Cloud-based archiving services
Solid-state storage showing up in more shops
Cloud storage might be experiencing some growing pains, but solid-state storage appears well on its way to becoming a data center mainstay. Slightly more than 16% are using solid-state storage now, representing a year-over-year gain of nearly six percentage points. Another 10.5% said they'll implement solid-state this year (vs. last year's 5.9%). And one-third will evaluate the technology in 2011, leaving only 40% without any specific solid-state storage plans.
STEADY GROWTH FOR SOLID-STATE STORAGE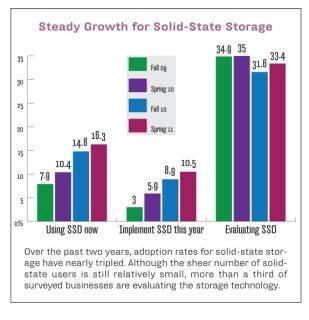 Enlarge STEADY GROWTH FOR SOLID-STATE STORAGE diagram.
On average, current solid-state users have 6.8 TB of the stuff installed, which is a pretty impressive figure when you consider the cost of solid-state. Those who said they'll be adding solid-state storage this year will be upping their installed capacity by an average of 5.9 TB.
Most of that solid-state storage (75%) is finding its way into arrays; that option has emerged as the preferred implementation choice. Thirty percent -- much of which likely represents solid-state in PCIe form factors -- is installed in servers, and another 27% of solid-state storage is used in laptops and desktop PCs.
Striving toward efficiency
"Efficiency" has become the byword of many storage shops over the last few years, not because it has a catchy marketing ring, but because a shifting economy has permanently altered the data storage landscape. Storage managers are eager to pursue technologies that can help them make better use of their installed systems by ensuring that data resides on the appropriate gear, by using available capacity effectively and by removing data that's no longer accessed.
By pooling available storage resources, storage virtualization can help achieve some of these efficiencies. But despite improvements in the technology and its implementation alternatives, adoption of storage virtualization has been relatively slow. Now, however, our survey reveals that 34% of respondents have virtualized at least some of their storage. That may be a relatively modest number that hasn't budged an awful lot over the past year and a half, but if the 39% of survey takers who said they plan to acquire storage virtualization technology this year follow through on those plans, adoption rates should improve.
On the other end of the virtualization spectrum, there are still issues related to administering storage for virtualized server environments. Fibre Channel storage (47%) is still the top choice for virtual server storage, with iSCSI making some modest gains but still far behind at 20%.
There are still kinks to work out: Nearly two-thirds said they're using more storage with virtualized servers than they did before. And while only one-third said virtualizing servers has made storage management a tougher job, 50% indicated they'll be shopping for management tools in 2011 to better manage their storage for virtual servers.
FILE SYSTEM TOP BACKUP TARGET CHOICE, DEDUPE COMING ON STRONG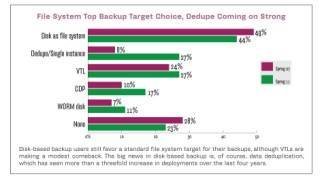 Enlarge FILE SYSTEM TOP BACKUP TARGET CHOICE, DEDUPE COMING ON STRONG diagram.
Among other efficiency technologies, data reduction for primary storage is getting a lot of attention: 37% have already implemented it or will this year, and another 37% plan to evaluate data reduction products. Those numbers place the technology just behind deduplication for backup, which once again tops our list of "hot technologies."
Automated tiering software, which can help preserve high-cost disk real estate, has been or will be implemented by 23% of those surveyed, with 37% expecting to evaluate it. It's also interesting to note that 10 Gbps Ethernet products were third on the list (46% implementing and 27% evaluating); the effects of high-speed Ethernet will likely ripple through the data center, affecting both data and storage networks, along with the viability (and cost-effectiveness) of iSCSI storage systems.
Light at the end of the tunnel?
The improving storage budget statistics over the last two years are pretty solid proof that IT shops are emerging from their economic doldrums. And that's good news as storage systems -- and storage staffs -- continue to be stressed by capacity and performance issues. Typically, year-over-year budget change numbers are somewhat lower on our spring surveys than on the autumn editions. Maybe this spring's good news will be even better by fall.
Rich Castagna (rcastagna@storagemagazine.com) is editorial director of the Storage Media Group.
This story was originally published in Storage magazine.