News
Stay informed about the latest enterprise technology news and product updates.
NetApp leads again in enterprise array Quality Awards
In SearchStorage.com/Storage magazine's Quality Awards for Enterprise Arrays, find out which products have proved valuable and reliable in five main categories.
NetApp Inc. is no longer just another major network-attached storage (NAS) contender, but a powerhouse in enterprise data storage. In four consecutive Quality Awards surveys by Storage magazine and SearchStorage.com, NetApp has led in the Enterprise Array category (sharing one win with EMC Corp.). As it did last time, NetApp topped four of the five rating categories, garnering an average rating of 6.69.
But the gap between NetApp's winning score and that of second-place finisher IBM (6.61) was slight, which goes to show just how close the battle was for each rating category. Hitachi Data Systems Corp. was also squarely in the running, ranking third with a solid overall score of 6.46, closely tailed by EMC (6.30) and Hewlett-Packard (HP) Co. (6.25).
Overall rankings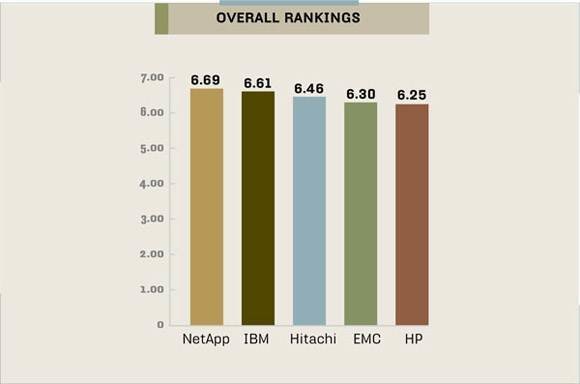 Enterprise arrays overall rankings
The five vendors that garnered enough evaluations to be finalists racked up solid scores with every product line earning a 6.00-plus score in each rating category. Breaking the scoring down even further, there were only two sub-6.00 scores for single statements within all five categories. Net-App's attempt at a clean sweep of all five categories was thwarted by IBM, which copped top honors for product reliability. Both vendors netted remarkably consistent scores, but the narrow margin NetApp was able to maintain over Big Blue in the other four categories was enough for an overall win. This was a repeat performance for NetApp; the vendor prevailed in the same four categories in the previous Quality Awards for Enterprise Arrays.
Sales-force competence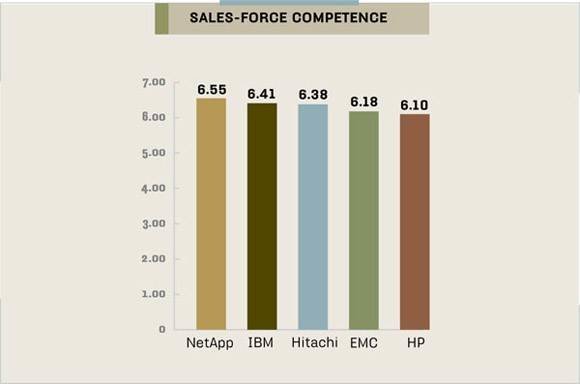 Enterprise arrays sales-force competence rankings
NetApp (6.55) scored highest on four of the six statements in winning this category, which measures the effectiveness of a vendor's sales team in paving the way for a successful implementation. Hitachi (6.38) drew top marks for the other two statements, but it was just barely nudged out by IBM (6.41), which finished second. NetApp's top scores were for having flexible sales reps (6.71) and knowledgeable sales support teams, but it outdistanced the field fairly handily for being easy to negotiate with, with a score of 6.56 that easily topped second-place IBM (6.19).
Breaking down the numbers:
Hitachi had high statement scores for sales reps that are knowledgeable about customers' industries (6.56) and for reps who keep customers' interests foremost (6.50).
IBM's best rating was for having knowledgeable support teams (6.66), which was also the highest rated statement across all vendors with a 6.51 average.
Only one statement score fell below 6.00.
Key statistic:
Considering all five finalist vendors, their average 6.33 category score for sales-force competence is second only to the 6.37 from the last Quality Awards.
Initial product quality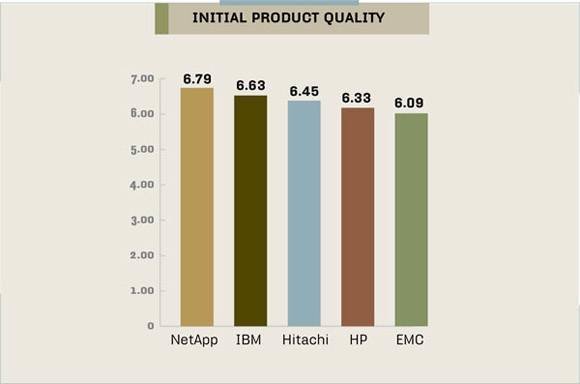 Enterprise arrays initial product quality rankings
NetApp apparently knows that a good first impression can go a long way; its 6.79 in the initial product quality category was its highest score overall and represented its largest margin of victory. It's also the highest rating we've ever seen for enterprise arrays in this category. Still, IBM's 6.63 wasn't all that far behind and good enough for second (and the third best ever recorded); Hitachi's 6.45 gave it another third-place finish. NetApp had the high scores on five of the six category statements to highlight an usually consistent performance, with statement scores ranging from 6.63 to 6.88.
Breaking down the numbers:
NetApp had a pair of 6.89s for "This product is easy to use" and for not requiring an unusual amount of professional services help.
"This product delivers good value for the money" is one of the key statements on the entire survey, and NetApp again prevailed with a 6.88; Hitachi was next highest at 6.66.
The average for all the products in the initial product quality category was a second-best-ever 6.46.
Key statistic:
Array deployments must be getting easier; the best across-the-board score was a 6.58 for "I am satisfied with the level of professional services this product requires."
Product features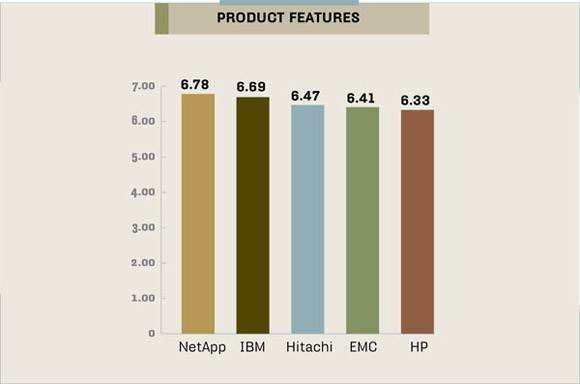 Enterprise arrays product features rankings
Eventually, any array evaluation comes down to features, and NetApp doesn't fall short by that measure either, posting top marks for five of the seven statements in this category. NetApp was again very consistent, but showed particular muscle with a 6.98 for replication features and a 6.89 for mirroring features. IBM was tops for the other two statements, including a 7.00 for "Overall, this product's features meet my needs." That 7.00 score was one of only two 7.00-or-better statement scores for all categories and all vendors in the survey.
Breaking down the numbers:
With data growing at unprecedented levels, scaling is an important issue; NetApp's 6.71 for capacity scaling was effectively tied by IBM's 6.70, but all vendors fared well, including a solid 6.60 for EMC.
IBM's second statement win was a 6.68 (to NetApp's 6.57) for interoperability with other vendors' products.
Vendors seem to be winning the speeds, feeds and specs race, as the highest average score for all vendors was 6.63 for features meeting users' needs.
Key statistic:
For seven Quality Awards for Enterprise Arrays, no vendor has ever been the overall winner without scoring highest in the product features category.
Product reliability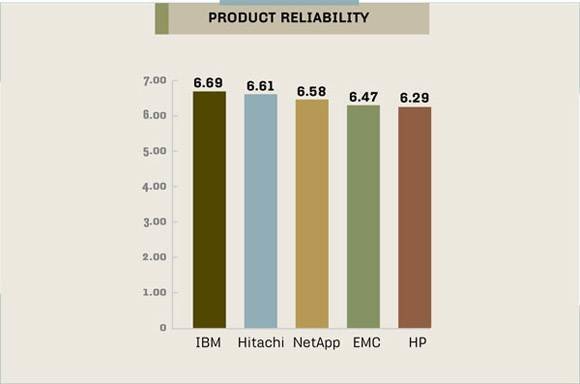 Enterprise arrays product reliability rankings
IBM picked up high scores on three of the five statements in the product reliability category on its way to a 6.69 average, which was good enough for a win over Hitachi (6.61) and NetApp (6.58). IBM was strongest for requiring very few unplanned patches, meeting service-level agreements and for providing comprehensive upgrade advice. With a second-place showing, Hitachi stepped up a bit from its third-place finishes in all the other categories. NetApp's weakest statement score was for nondisruptive patching, which kept it from a sweep of all the categories.
Breaking down the numbers:
Hitachi scored highest (6.56) for nondisruptive patching, but its highest score was a 6.72 for "very few unplanned patches."
NetApp's highest mark (6.83) was for "This product experiences very little downtime."
However many nines of reliability you expect, enterprise arrays won't disappoint -- the highest average score for all vendors was a 6.64 for "very little downtime."
Key statistic:
IBM was a model of consistency in the product reliability category, with scores ranging from 6.54 to 6.79.
Technical support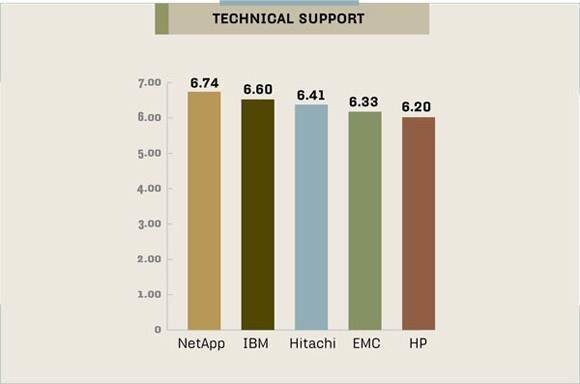 Enterprise arrays technical support rankings
NetApp returned to form in the technical support category with a 6.74, the highest ever rating in the Quality Awards for Enterprise Arrays, which surpassed its own mark of 6.70 in the last survey. NetApp led the group on seven of the eight category statements, highlighted by a 7.00 for "Vendor supplies support as contractually specified." Second-place IBM (6.60) had another strong showing, including a statement win with a 6.72 (to Net-App's 6.70) for having knowledgeable third-party partners. All the vendors fared well in this critical category, with Hitachi (6.41), EMC (6.33) and HP (6.20) rounding out the field.
Breaking down the numbers:
NetApp and IBM were nip and tuck on most of the statements in the category, and both were strong for the same rating criteria.
In addition to its 7.00 score, NetApp's top scores were for knowledgeable support personnel (6.89), documentation (6.79) and knowledgeable third-party partners (6.70).
Besides its one statement win, IBM had the second-highest score for all the other statements in the category.
Key statistic:
Enterprise array vendors are delivering as promised: The highest across-the-board average for all vendors was 6.67 for supplying support per contract.
Would you buy it again?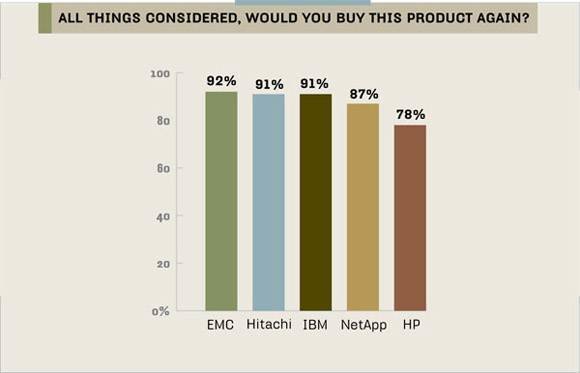 Enterprise arrays: Buy again?
When we ask our survey respondents if they would buy the same array again given what they know now, we're often surprised when those responses don't match up with the rating category scores. Once again, we have a discrepancy, but overall satisfaction levels appear to be high, with 88% saying they would take the same plunge. Eight-seven percent of NetApp users said they would buy that vendor's product once more—a solid rating, but good enough only for fourth place behind EMC (92%), Hitachi (91%) and IBM (91%).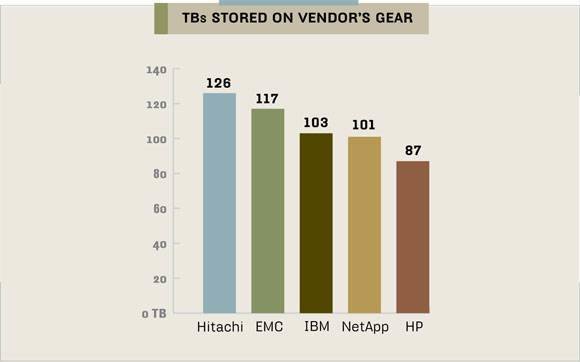 Enterprise arrays: TBs stored on vendor products
It's hard to say what kind of reasoning figures into respondents' "buy again" replies. Often, it's as much a case of familiarity as anything else, but how much they rely on their arrays and how much data they pile into them might also be factors. Home to an average of 126 TB, Hitachi's systems are clearly the workhorses of this group. EMC's systems aren't much off that mark, with an average of 117 TB; IBM's and NetApp's products both host an average of more than 100 TB.

Products in the survey
Here's a list of products that were included in the seventh Quality Awards for Enterprise Arrays survey (the response count for finalists is in parentheses).
EMC Corp. Symmetrix DMX/DMX-3/DMX-4 or VMAX/VMAXe (90)

Fujitsu Eternus DX8400 or DX8700*

Hewlett-Packard (HP) Co. XP Series/HP StorageWorks P9000 Series/HP P10000 3PAR Storage Systems/HP 3PAR T-Class Storage Systems (82)

Hitachi Data Systems USP/USP V/VSP Series (35)

IBM DS8000 Series or XIV Storage System (45)

NetApp Inc. FAS6000 Series or V6000 Series (60)
*Not enough responses to qualify
More on the survey
The Storage magazine/SearchStorage.com Quality Awards were created to acknowledge and distinguish products that have demonstrated their value and dependability through actual usage. The outcome is determined by surveying readers who are qualified to judge products in five major categories: sales force competence, initial product quality, product reliability, product features and technical support. Our method incorporates statistically accurate polling that eliminates market share as a factor. The goal is to identify those products that have shown reliability on the market irrespective of vendor size or reputation. These products were assessed using a scale of 1.00 to 8.00, with 8.00 being the highest rating. A total of 213 respondents offered 320 system assessments.
Rich Castagna is editorial director of the Storage Media Group.
This story was previously published in Storage magazine.
Dig Deeper on Primary and secondary storage