Evaluate
Weigh the pros and cons of technologies, products and projects you are considering.
IBM leads among top storage vendors for midrange arrays
IBM proved to be the top storage vendor in the Quality Awards for midrange arrays survey, outperforming a strong group of contenders.
IBM reigned victorious in the seventh edition of the Quality Awards for midrange arrays survey, outperforming top storage vendors in four out of five ratings categories. In seven years, this is only the second survey in which IBM has seen a top-three finish. And the victory comes among a group of veritable vendors. The finalist products boast an overall score of 6.60, only 0.03 points shy of the highest set a couple of surveys ago. With improvement seen in quality and reliability with each new product, user satisfaction with midrange arrays is continuing to grow.
Overall rankings
IBM just missed the 7.00 mark while garnering a very impressive overall score of 6.91. And it was a good thing for Big Blue to tally such a high score because the competition was fierce. Oracle Corp. snared a category and nipped at IBM's heels in three others to finish a close second with an overall score of 6.86. Following Oracle there was a small gap in the scores before NetApp Inc. (6.65) and Dell Inc. (6.64) finished in a virtual dead heat.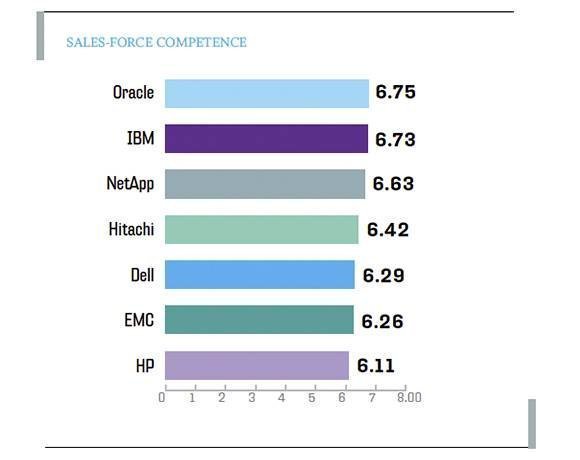 Sales-force competence
The first step in any midrange storage array implementation is the sales process. For an IT organization, this experience will often set the tone of the relationship with its product vendor. For a vendor, it's a chance to demonstrate the depth of its knowledge and commitment to the customer. Oracle netted a 6.75 by scoring highest on three of the six category statements and tying on a fourth. It tied IBM for the highest statement score (6.93) for "The vendor's sales support team is knowledgeable."
Breaking down the numbers
Oracle scored well for being easy to negotiate with (6.86), having reps that are knowledgeable about customers' industries (6.79) and respecting customers' interests (6.79).
Besides the one statement tie, IBM was tops for having reps that understand customers' businesses (6.69) and for being flexible (6.69).
The group's overall sales-force competence rating of 6.46 is the second highest ever.
Key stat
6.65: The group's highest average statement score for having a knowledgeable sales support team.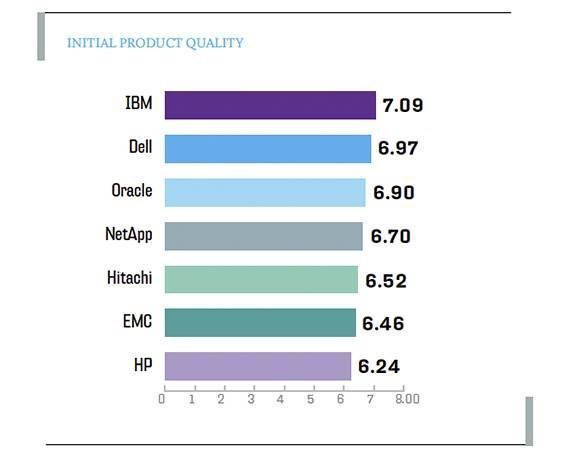 Initial product quality
If the sales process sets the tone, flipping the "on" switch for the first time is likely to be a defining experience as well. All the top storage vendors appear adept at making a good impression with their midrange ware, with an overall category average of 6.70 -- barely a whisker off the previous high of 6.71. The group was led by IBM, which posted the only 7.00-plus category score with a 7.09. Dell (6.97) and Oracle (6.90) finished a close second and third, respectively, with the rest of the group putting up solid scores as well.
Breaking down the numbers
IBM scored 7.02 or better on five of the six category statements, with a high of 7.31 for "This product was installed without any defects."
Dell storage products netted 7.00-plus ratings on four statements, with a group-leading 7.00 for "The product requires very little vendor intervention."
Oracle earned the only other over-7.00 score with a 7.07 for installing without defects.
Key stat
6.95: IBM's "lowest" statement score (for "The product requires very little vendor intervention") still nearly won.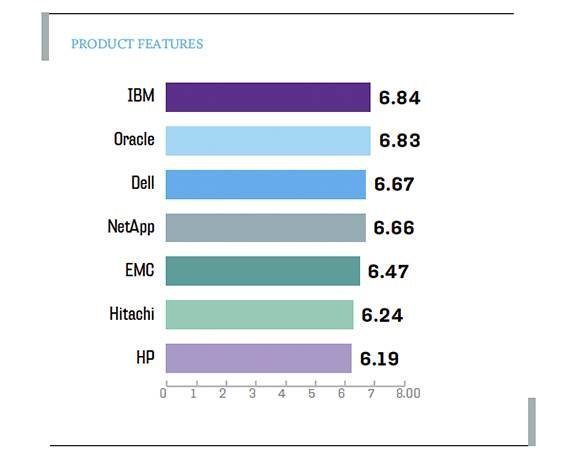 Product features
While there are many factors contributing to the final impression of a product, features and capabilities can trump all other considerations. But users can be harsh judges and, as a result, the overall category average for these midrange product lines tied for the group's second lowest at 6.56. That's not to suggest the scores were bad, just a bit lower with IBM (6.84) and Oracle (6.83) finishing in a virtual dead heat at the top of the stack, followed by another near-dead-heat finish between Dell (6.67) and NetApp (6.66) to fill out the top four spots.
Breaking down the numbers
IBM and Oracle posted 7.00 scores for scaling (IBM) and mirroring features (Oracle).
NetApp, with a 6.80, led the group on the remote replication statement, a traditional strength of the vendor.
IBM came close to 7.00 scores on interoperability (6.95) and "Overall, this product's features meet my needs" (6.93).
Key stat
5: The number of statements that IBM scored highest on (out of seven).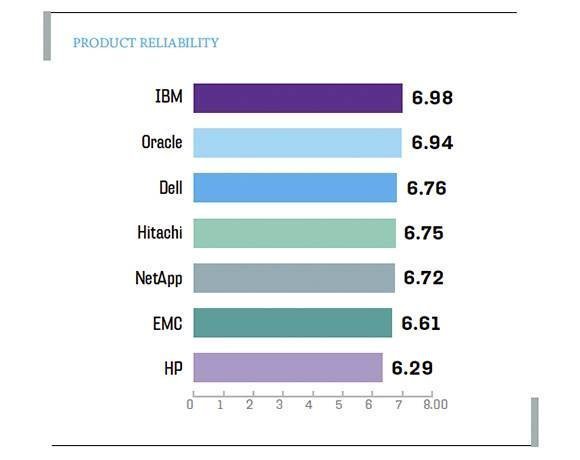 Product reliability
There's no sterner measure than the test of time for a storage system. A product may fall short feature-wise, but if it shows up for work every day, those shortcomings will likely be overlooked. This survey's top storage vendors, as a group, are a stalwart bunch, with an overall average statement score of 6.72 -- just shy of the 6.74 posted two years ago. IBM again led the way, with a sterling rating of 6.98, which was enough to nose out persistent Oracle's 6.94. Dell (6.76), Hitachi (6.75) and NetApp (6.72) followed in a tight scoring cluster.
Breaking down the numbers
IBM and Oracle each snared 7.00-plus scores on three statements.
Dell received the only other 7.00-plus score, a 7.06 for "This product experiences very little downtime."
Oracle picked up the highest statement score (7.18) for the downtime statement.
Key stat
6.91: The group's highest average score was for experiencing little downtime.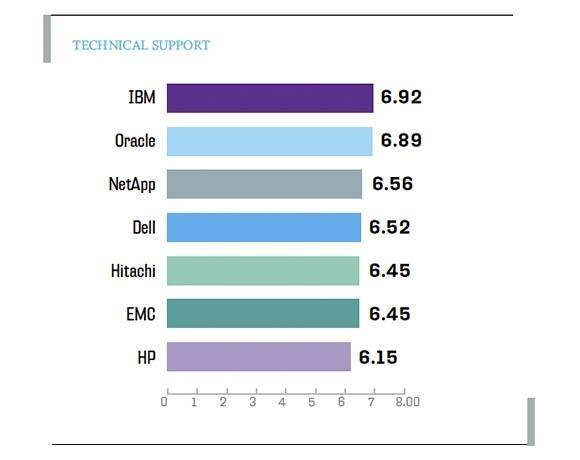 Technical support
Across all Quality Awards categories, IBM typically earns high marks for its technical support. In this midrange array group, IBM continues that tradition with a winning mark of 6.92. Oracle again proved to be a dogged competitor, finishing hard on the heels of IBM with a 6.89. All the vendors fared well, demonstrating their attentiveness to customer needs with an overall average of 6.56 for the category, just 0.03 off the best past score.
Breaking down the numbers
IBM won on the strength of four over-7.00 scores, highlighted by a category-high 7.45 for delivering support as contractually specified.
IBM scored highest on seven of the eight category statements; Oracle's 7.06 was tops for taking ownership of problems.
Dell landed the only other 7.00-plus rating, a 7.07 for delivering support as promised.
Key stat
6.40: The group's lowest average statement score for providing adequate training
About the Quality Awards
The Storage magazine/ SearchStorage.com Quality Awards recognize products that have shown dependability and quality. To arrive at the results, qualified Storage/ SearchStorage.com readers were surveyed and asked to assess products in five major categories. These products are evaluated on a scale of 1.00 to 8.00, with 8.00 being the most favorable score. A total of 275 respondents provided 463 midrange storage array evaluations. See the list of storage vendors and products that were included in the survey.
Two more measures of midrange prowess
Buy it again? The final question on our Quality Awards surveys always asks: Given what you now know, would you buy this product again? Often (as is the case this time), the buy-again numbers don't seem to jibe with the category scores. Chalk it up to brand loyalty or to sticking with what you know, or maybe it's just that all the product lines rated here fared quite well.
Heavy lifters: We also like to know how the rated systems are being used and how much companies rely on them. Some insight in those areas can be derived from knowing how much data companies have stored on these products. It's not a measure of features or performance, but it can be another way to gauge reliability.
Rich Castagna is editorial director of the Storage Media Group.
Dig Deeper on Primary and secondary storage