Manage
Learn to apply best practices and optimize your operations.
Soluto Windows monitoring software may add to VAR business
Windows monitoring software from Soluto, now in beta, may help solution providers' customers collect new types of data and drive future business opportunities.
Soluto is seeking to carve out a niche for itself in the channel market by offering a free beta to help VARs monitor the software elements that get loaded during a customer's Windows startup. Called Soluto Anti-Frustration Software, the Windows boot optimizer utility tracks the time it takes from when the Windows kernel starts running until all initial startup activities are completed and desktop control is handed over to the user.
With all these features, the Soluto utility might have the most appeal to the IT operations staff who look to deliver the best possible user experience to its client base. But why should the channel care about a desktop software utility? Primarily because of the intelligence that Soluto gathers in the background on every PC on which it runs.
The utility enables customers to see all of the elements that add to Windows start-up time and manage any elements that remain outside the operating system's (OS) direct control. On the other hand, OS elements may neither be prevented from running nor subjected to a postponed launch after boot-up has completed.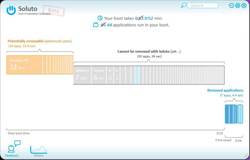 Figure 1: Soluto displays OS components in gray, easy-to-manage components in green or blue and trickier components in orange. Here, seven out of 71 applications have been paused or delayed and no longer affect Windows startup time.
A key component of the utility is its "PC Genome," which performs an inventory of the Windows environment when the system is booted after a new program, driver or other software is added to a Windows machine. The software is built to collect information about all errors and unexpected events that occur on each PC that it runs on.
What Soluto can do for VARs
Only a subset of that data is being used in the current version of the program right now -- specifically the parts that relate to the Windows start-up process and the many software components that run while a system is coming up to an operational state. But behind the scenes, Soluto is gathering information about all aspects of Windows runtime behavior on all of the 1 million-plus desktops on which it's currently running.
According to Soluto, the data being gathered is intended to provide a powerful form of crowdsourcing, which means Soluto gains access to information about the sources of problems across its entire user base. Although this could provide a powerful competitive advantage were Soluto to treat this massive database as proprietary, the company said that the PC Genome database will eventually become both public and free for customers of solution providers.
"Our goal is to help consumers and decision makers understand what's causing frustration in the Windows world and to act intelligently when it comes to choosing hardware and software components for their machines," said Roee Adler, chief product officer at Soluto. "[The same data] will also provide better usage records and problem information to vendors whose products emerge as sources of frustration and let them measure how well and quickly they can address such things."
With more than 1 million registered users worldwide, the Soluto utility is still a beta, but a commercial release is slated for later 2011. An improved beta version will be introduced after the first commercial release with features that are now in development.
"The best thing about our development model is that we can watch how releases affect the user base and make sure our programs do what they are supposed to do before reaching the general public," said Adler.
Will Soluto keep its free pricing?
Soluto will remain free for non-commercial users for the time being, according to Adler, but the company is evaluating business models for commercial use. Soluto is also developing monitoring and deployment tools to allow software to be staged on an enterprise or organizational network and to provide a console so that data can be viewed, analyzed and observed on a local basis.
The company is also trying to establish partnering relationships with system builders and system integrators that might be interested in incorporating its software into comprehensive or end-to-end management and monitoring systems.
Soluto said it is looking for partners to discuss licensing, development and commercial relationships.
About the expert
Ed Tittel is a regular contributor to and blogger for numerous TechTarget Web sites, with particular interests in information security, markup languages, and Windows operating systems. His latest book Computer Forensics Jumpstart, 2e (coauthored with Michael Solomon and K Rudolph, Sybex: ISBN: 9780470931660) should hit bookstores in March, 2011.
Dig Deeper on Server management, sales and installation