Evaluate
Weigh the pros and cons of technologies, products and projects you are considering.
Billion-dollar question: Will the stimulus stimulate VAR business?
Congress has allocated $787 billion to stimulate spending on physical and virtual infrastructure. Will that money spark real IT projects? SearchITChannel.com's sister sites take a look at what the bill could bring.
Reasonable people disagree on the merits of the newly passed government stimulus package. But even those that don't think the $787 billion, 1,071-page bill is big enough to stop the economic swoon still concede it is Big, with a capital "B." What they don't agree on is whether that spending, and the "shovel ready" infrastructure projects it will fund, will create new opportunities for IT solution providers.

Download this free guide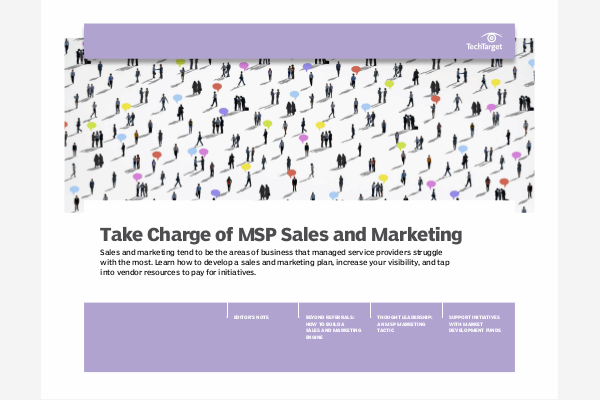 Expert Guide: Creating an MSP Sales and Marketing Plan
Sales and marketing tend to be the areas of business that managed service providers struggle with the most. Learn how to develop a sales and marketing plan, increase your visibility, and tap into vendor resources to pay for initiatives.
Some think that at least some of the $17 billion earmarked for electronic health record mandates could spark implementation and integration business for VARs in the healthcare vertical. Some say that more pervasive broadband connectivity -- linking homes and businesses in underserved areas -- at least raises the bar and could boost creation of small businesses. Others said the stimulus won't help VARs at all -- unless it calls "for us to bury servers under all those new roads," as one solution provider quipped.
SearchITChannel.com's sister sites take a look on what the stimulus means -- or doesn't mean -- for IT solution providers.
News:

Ingram Micro seeks economic stimulus grants for VARs
SearchITChannel.com
Economic stimulus package: Too many unknowns, say storage resellers
SearchStorageChannel.com
Economic stimulus package to boost IT spending, systems resellers say SearchSystemsChannel.com
Partners to see stimulus package benefits, but not without challenges
SearchNetworkingChannel.com
Special IT projects survey: Top IT channel priorities for 2009
SearchITChannel.com
Blogs:
How will the economic stimulus package help resellers?
Dig Deeper on Vertical Market Sales Strategy