Manage
Learn to apply best practices and optimize your operations.
How to sell desktop virtualization software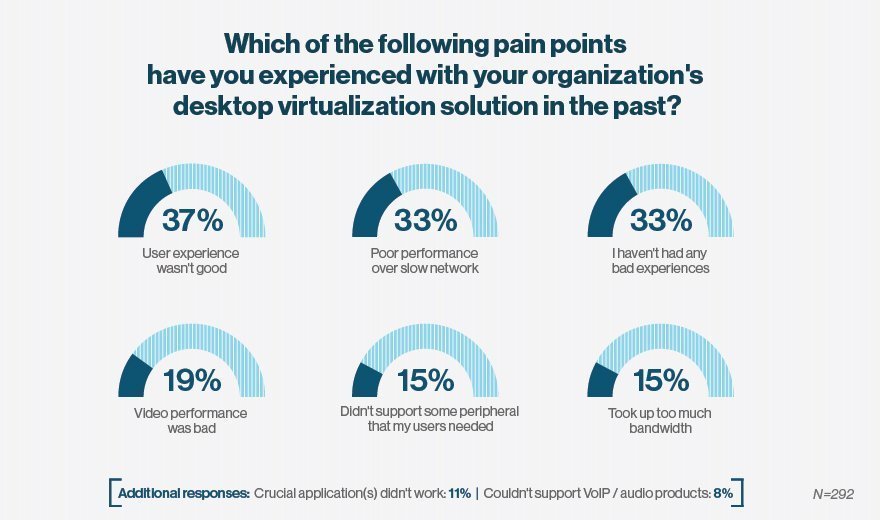 Designer:
Christopher Seero/TechTarget
Despite the many desktop virtualization benefits that drive your customers to the technology, there are a few pain points and challenges they deal with, as well. The No. 1 complaint among our survey respondents was an inadequate user experience. While vendors continue to improve their virtual desktop technology to provide a more PC-like experience, 37% of the survey takers said they were dissatisfied with the quality of their current technology.
About one-third of the survey respondents (33%) cited poor performance over slow networks as another pain point/challenge, but another third (33%) said they haven't had any bad experiences with desktop virtualization.
Joe Brown, president of Accelera Solutions Inc., said that, in his experience, transitioning users to virtual desktop environment can pose challenges. "Most users have been using a desktop computer for most of their adult life at this point, and they really understand pretty well how to get around in it. Anytime you disrupt it for any reason, it can cause some challenges for them. And so even though using virtual desktop technology feels very much like a standard desktop … there are still some nuances that aren't quite the same. … And that can mean a little bit of retraining, which can, in many cases, create some anxiety for people," he said.
But there are deceptively simple remedies to help users overcome their resistance to the technology, Brown said. "You have to kind of psychologically convince the end user that [virtual desktops are] a better way to go, and sometimes the best way to do that is to give them a brand-new flat screen monitor or something like that. It makes them feel like they're on a better system. Strange, but true."
Small and medium-businesses (SMBs) generally can come up against a slew of challenges with desktop virtualization, said Techaisle CEO Anurag Agrawal. For example, SMBs that are adopting desktop virtualization generally do not have the level of expertise to ensure a successful implementation. "[SMBs] are limited by their skill sets, so therefore they are also limited by the skill sets of their channel partners," he said. One of the biggest challenges that SMBs face is the deployment not going as planned due to their inexperience and the inexperience of their channel partners. He said other challenges they face include cost overruns , licensing issues and management.
Next Steps:
Find out what the desktop virtualization market holds for 2015
Read about why hosted virtual desktops are on the radars of both MSPs and SMBs
Explore this guide to virtual desktop management tools
View All Photo Stories