Manage
Learn to apply best practices and optimize your operations.
How to sell desktop virtualization software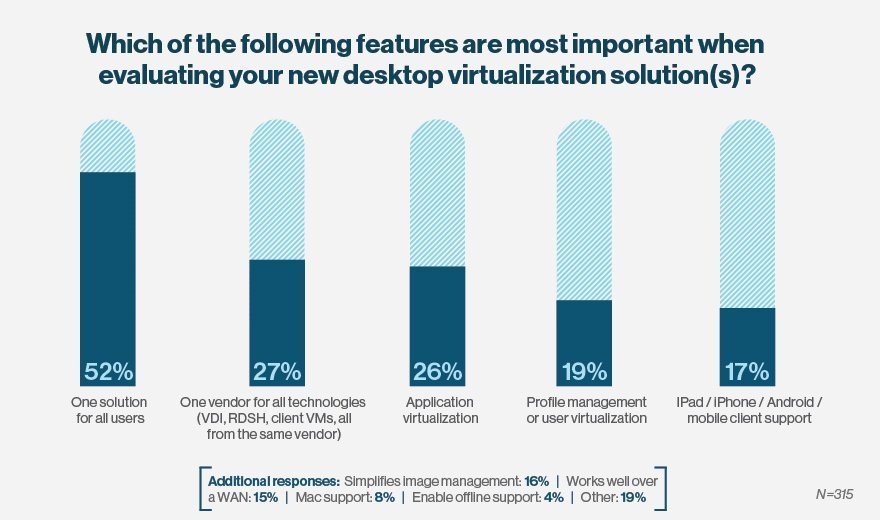 Designer:
Christopher Seero/TechTarget
For customers evaluating virtual desktop solutions, one product feature stands out among the rest: Fifty-two percent of survey respondents said it was important that the product was "one solution for all users."
While virtual desktop infrastructure (VDI) may indeed support the majority of your customer's users, products may not provide 100% coverage. "You're certainly not going to hit 100% of your user base with a VDI solution. That's something that's just absolutely true," said Accelera Solutions Inc. president Joe Brown. For example, the solution is not going to be able to address users who frequently work offline or on engineering graphics. "There are particular use cases that don't necessarily match up well with desktop virtualization, but the vast majority of your enterprise users should be able to leverage a virtual desktop and be highly effective with it," he said.
In our survey, the second most-cited feature was having one vendor for all desktop virtualization technology, selected by 27% of survey respondents. This means many of your customers will be looking to you to guide them to vendors that offer a complete range of desktop virtualization technologies.
"Citrix, in our minds, has got the most complete portfolio for desktop virtualization," said Anurag Agrawal, CEO and analyst with Techaisle, adding that Citrix was the most popular brand within SMBs (small and medium-businesses) for desktop virtualization. Although VMware isn't top of mind for SMBs as a go-to desktop virtualization vendor, the vendor has started to build its desktop virtualization portfolio through the acquisition of AirWatch, he said. Additionally, Dell is trying to make waves in the desktop virtualization space, according to Agrawal.
The third most important feature, cited by 26% of our survey's respondents, was application virtualization. For some customers, virtualizing every user's desktop may be excessive, so you might suggest application virtualization as an alternative. While application virtualization can ease management and deployment among other benefits, you should educate your customers about some of the potential drawback of application virtualization, such reduced functionality and other performance issues.
View All Photo Stories