Manage
Learn to apply best practices and optimize your operations.
How to sell desktop virtualization software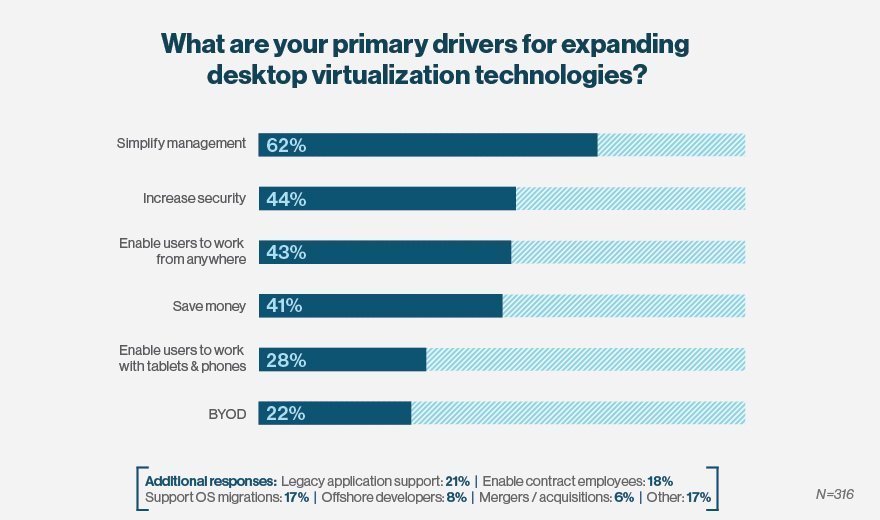 Designer:
Christopher Seero/TechTarget
A variety of factors motivate tech buyers to purchase desktop virtualization technologies, but the survey results revealed the simplification of management to be the most-cited driver, selected by 62% of respondents.
As your customers may already know, desktop virtualization provides a simplified desktop image management process, which can free up IT administrators from time- and labor-intensive tasks such as applying patches to operating systems. It can even allow organizations to reduce IT administrator staff to save on costs. "One single IT administrator can manage thousands of desktops from a single console with VDI, whereas in a traditional environment, with a thousand or more desktops, you would need many -- probably three to five -- desktop administrators to be able to handle that type of an environment," said Joe Brown, president of Accelera Solutions Inc.
While, in many cases, desktop virtualization can indeed facilitate management, small and medium-sized business (SMB) market expert Anurag Agrawal pointed out that managing virtual desktop infrastructure (VDI) can prove challenging. "One of the problems with VDI is that is does provide a scalable, mobile infrastructure, but it has really not simplified the management of it," he said. "There are not enough tools or technologies -- even from VMware or Citrix, what have you -- where they have been able to create something that simplifies or takes the burden away from the IT management to really manage the VDI. And that's where they are starting to look at some of the hosting options, such as desktop as a service."
However, Brown noted that management has greatly improved. "The primary providers in the marketplace -- Citrix and VMware -- have done a fantastic job of simplifying the management interfaces, creating more of a unified single pane of glass to be able to handle all the components of a desktop virtualization environment. And that's made it a whole heck of a lot easier for system administrators to handle than it used to be," he said.
Following the simplification of management, increasing security was selected as the second most-cited driver by 44% of our survey respondents. As you and your customers may already be aware, VDI can offer formidable security advantages. For example, if an organization replaces its desktop computers with diskless thin clients capable of connecting to only the VDI environment, users have no way of installing unauthorized software or infecting the physical device with malware. Additionally, when compared with securing physical desktops, securing virtual desktops can be a relatively easy task for IT administrators.
In our survey, enabling users to work from anywhere was next in line for drivers behind increasing security, cited by 43% of respondents.
View All Photo Stories