Get started
Bring yourself up to speed with our introductory content.
Meeting your clients' big data project demands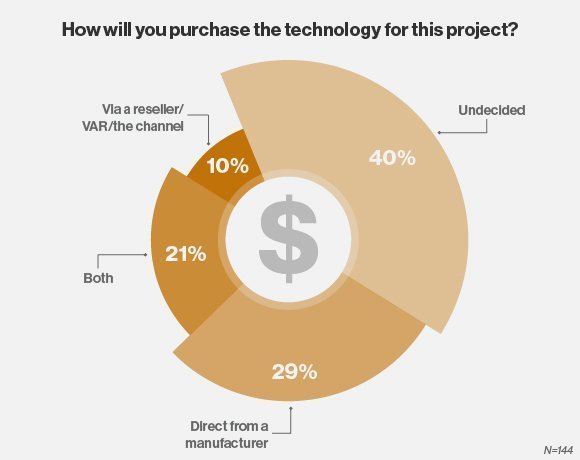 Now that you have some insight into your customer's big data projects, you may be disappointed to learn how they intend to buy big data technology. Only 10% of respondents said they planned to purchase their big data tools through the channel, compared to 29% who said they would buy directly through the manufacturers.
Although these numbers may be discouraging, do recognize that the majority of respondents -- 58% -- said they were undecided. Additionally, 21% said they would use both.
Can organizations be swayed toward buying their big data technology through the channel? According to Phil Shelley, president of big data consultancy Newton Park Partners, the way businesses buy big data technology depends on whether it's software or hardware. "On the software side for big data, you're really mostly talking about the Hadoop market, which is only a direct option," he said. "I don't know anybody, actually, that does not go direct for the software, for Hadoop specifically." While there may be some opportunities for resellers around software, such as deal referrals, it is uncommon for companies to turn to the channel for big data tools, he said.
For hardware, it's different, Shelley said. While some vendors such as Cisco and Oracle sell their own brand of hardware for big data applications, the hardware that companies need for their big data projects isn't any different than general-purpose computing hardware. "Hadoop [for example] was designed by Google originally to run on very generic hardware. It has no specific requirements to run.
"If [companies are] already buying your hardware through [channel partners] … there's no reason why they wouldn't just buy the big data hardware through the channel," he said.
The real opportunity today for channel partners may be in consulting services. Consulting services is "a big growth area" due to a big data skills gap, he said. For more information on developing a big data consulting practice, download our handbook.
For more on big data technology:
Advice on big data strategies and data management
Learn about big data security analytics
Read SearchCIO's "Data Mill" column for up-to-the-minute reports on data analytics strategy
View All Photo Stories