Get started
Bring yourself up to speed with our introductory content.
Meeting your clients' big data project demands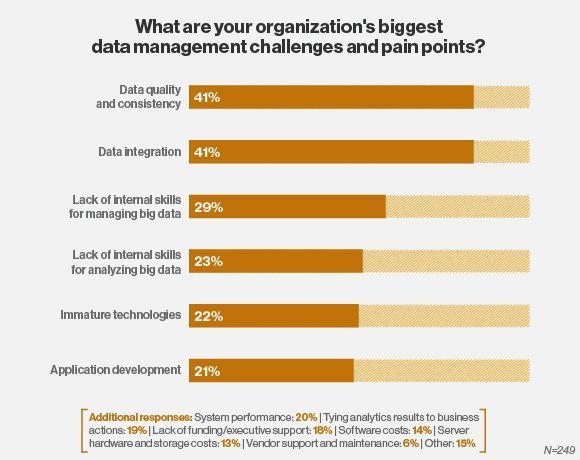 Now that you know the primary goals driving customers' big data projects, let's take a look at your customers' challenges and pain points. According to our survey responses, the top two big data challenges -- both cited at 41% -- are data integration and data quality and consistency.
Rapidly growing data volumes can impede an organization's attempts to pull together and integrate information from internal systems and external sources. The integration process requires matching, cleaning and preparing the data -- a perplexing activity for many organizations. And, as an organization's specific data analysis needs call for more dynamic environments, the data integration process is likely to become more complicated to manage.
At the same time, data quality and consistency issues are also hindering organizations' big data initiatives. With the extent and variety of data coming in, organizations' big data management capabilities are being put to task for ensuring the data is reliable and accessible for its given purposes.
Integration products, such as software connectors between Hadoop and relational databases, are one way to reduce your customers' pain points in regards to data integration. Companies can also adopt data quality software that automates data quality processes. Convincing customers that these products can help reduce the challenges, however, is not always easy. Data quality tools can carry large price tags and demand formidable expertise, so resellers must make strong business cases that prove the software's value.
Following data integration and data quality and consistency, respondents cited a lack of internal skills for managing big data as another top challenge, at 29%. Since big data is still a young field, it is not surprising that many organizations are finding it difficult to obtain the skills they need. While there may be little a traditional reseller can do to help customers on this front, this need for big data skills presents an opportunity for IT companies offering big data consulting services.
View All Photo Stories