Get started
Bring yourself up to speed with our introductory content.
Meeting your clients' big data project demands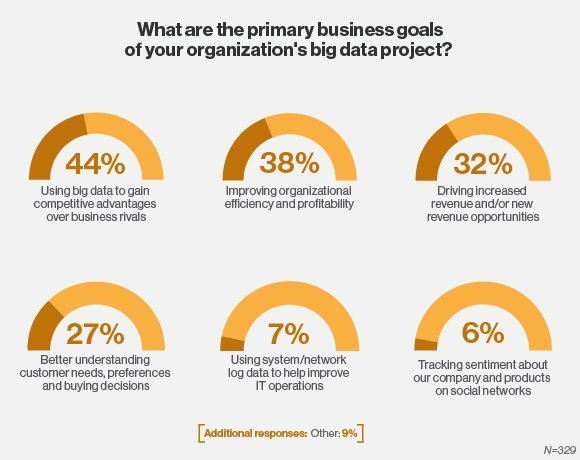 First, what are organizations trying to achieve through their big data projects? For businesses today, big data promises competitive advantages in the marketplace. Forty-four percent of our survey respondents said they intended to use big data to gain an edge over their competitors, making it the most-cited goal. Big data analytics tools can help your customers sift through vast amounts of information and capture insight that their competitors don't have. The benefits of this class of technology may mean different things to different companies, but big data analytics tools in general can turn up patterns, correlations, market trends, customer preferences and other insights -- all of which your customers can use to outpace their peers. Conventional business intelligence tools can't stand up to the demands of big data, so make sure the capabilities of the big data products you offer -- such as Hadoop, YARN, MapReduce, Spark, Hive and Pig -- are highlighted.
After competitive advantage, 38% of respondents said they were looking to big data to improve organizational efficiency and profitability. Applying the tools to internal processes can help businesses identify avenues for making their operations increasingly economical and effective. In this case, the technology promises to help companies make the most of their existing investments. As a trusted advisor, you have an opportunity to help your customers uncover ways to gather, harness and read their data, steering them toward a smarter strategy as a result.
Respondents also said they aimed to drive increased revenue and/or new revenue opportunities through their big data project, cited by 32% of respondents. Companies are looking to big data as a means of boosting their bottom lines through either/both existing revenue streams or new areas. Can you offer guidance around which tools will align with your customers' goals?
View All Photo Stories