Evaluate
Weigh the pros and cons of technologies, products and projects you are considering.
Selling VSM software: Customer priorities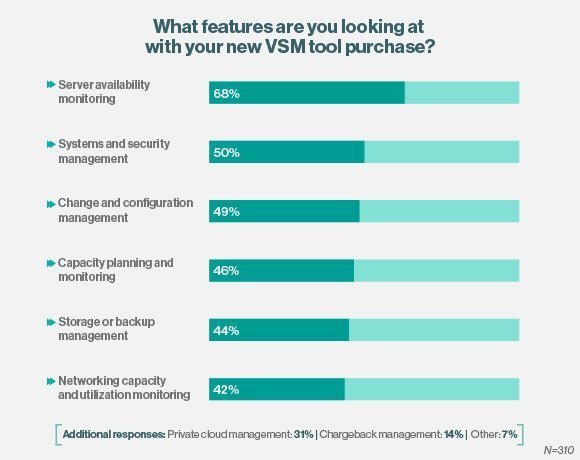 While hypervisor makers such as Citrix and VMware offer basic VSM tools, many of them fall short. Third-party vendors have picked up the slack by delivering feature-rich tools. Which features are most important to customers who are evaluating VSM tools? According to the results of our survey, server availability monitoring is a much-wanted feature, selected by 68% of the survey respondents. Virtual servers play a critical role in your customers' business operations, so having a tool that will assist in reducing downtime and improving business continuity is undoubtedly of critical business importance. Inquiring into the effectiveness of your customers' monitoring methods may reveal a need for VSM tools that will help achieve their availability and performance goals.
The second most cited feature was systems and security management, selected by 50% of the survey's respondents. With all the benefits that it provides, virtualization introduces new security vulnerabilities that traditional management tools can't properly address. Discussing your customers' virtual assets and identifying a VSM tool capable of protecting those assets could be a compelling factor that drives the sales process.
Immediately following systems and security management was change and configuration management, at 49%.
In the next slide, find out what customers said were their top three criteria for choosing a virtualization systems management vendor.
View All Photo Stories