Evaluate
Weigh the pros and cons of technologies, products and projects you are considering.
Selling VSM software: Customer priorities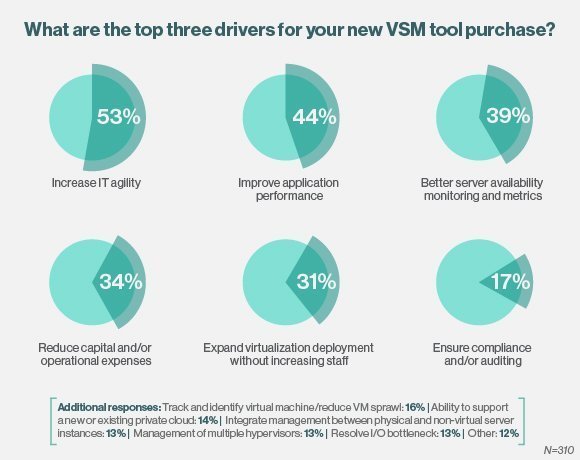 When asked to name the top drivers behind their new VSM software purchase, 53% of survey respondents said they wanted to increase IT agility. This suggests that many organizations realize that VSM software can play an essential role in their ability to stay competitive in today's business environment. You can help your customers achieve IT agility by providing the tools required for implementing innovative technologies more rapidly and efficiently across all facets of their operations. Data provided by management tools can help IT administrators adjust quickly to changes in physical-resource demands. Better visibility into virtual machine behavior also promotes a more efficient adjustment of resource levels, further contributing to IT agility and gaining a competitive edge in the marketplace.
Coming in behind increasing IT agility at 44% was improving application performance. Many applications today demand high performance the majority of the time they are running, and your customers might need tools to help accommodate these applications. Offering VSM software to enhance application performance could be strategic to making a sale.
"Better server availability, monitoring and metrics" was the third-most cited driver, at 39%, which indicates customers are looking for tools to leverage the servers they own.
In the next slide, we will look at the top three product features of virtualization systems management tools.
View All Photo Stories