Evaluate
Weigh the pros and cons of technologies, products and projects you are considering.
Top firewall purchasing decision factors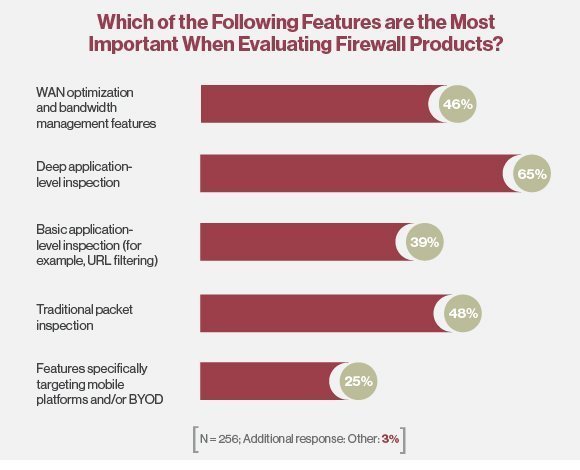 We asked survey respondents to choose the most important firewall features. At 65%, deep application-level inspection ranked highest among product attributes and suggests customers are concerned with fending off threats of application-level attacks. When choosing products with application-level inspection, experts provide a general rule of thumb: the more deep inspection that the perimeter firewall is expected to process and enforce, the more power and resources will be required, which can increase the risk of traffic slowdowns. Inspection of application traffic is usually a feature of next-generation firewalls.
Following deep application-level inspection, 48% of respondents cited traditional packet inspection and 46% cited WAN optimization and bandwidth as important firewall features.
For more information on firewall features and products
A vendor comparison of next-generation firewalls
Get best practices for choosing application-level firewalls
Read channel strategies for next-generation firewalls
Learn about how next-gen firewalls protect application-layer attacks
View All Photo Stories