Evaluate
Weigh the pros and cons of technologies, products and projects you are considering.
How customers size up public cloud computing services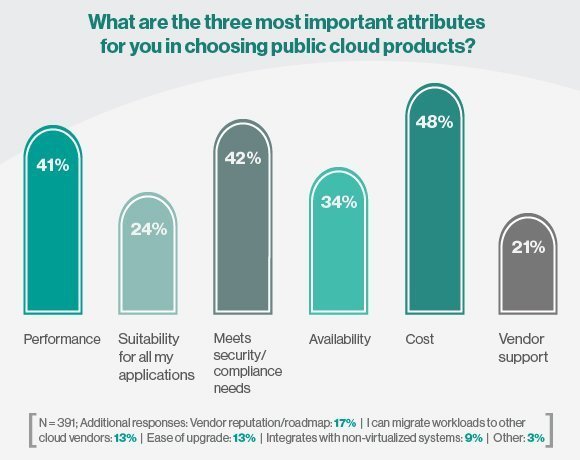 When it comes to choosing public cloud products, customers consider cost (cited by 48% of respondents) ahead of all other attributes. That's no doubt tied to the fact that cost savings is the top business driver of public cloud adoption. In choosing between multiple cloud service providers, you need to assess customers' expected use of providers' free cloud tiers (typically used just for testing purposes) and paid plans (which vary widely based on usage volume, contract length, region and other factors).
In our survey, the product's ability to meet respondents' security and compliance needs was next in line behind cloud cost, cited by about 42% of respondents, followed by the product's or service's performance.
Read about whether or not you can trust your public cloud provider
Get a list of key questions to ask public cloud service providers
Learn how cloud benefits may trump public cloud security fears
Find out how IT firms incorporate cloud services into their business operations
View All Photo Stories