Get started
Bring yourself up to speed with our introductory content.
Cloud computing survey reveals buyer trends for 2014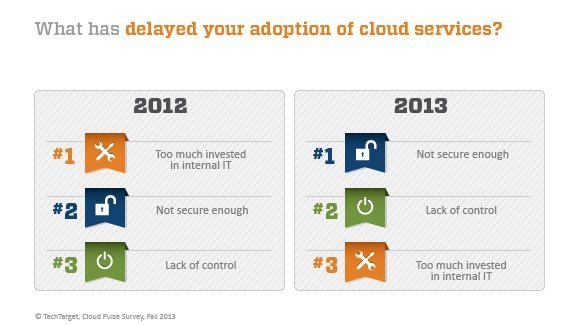 Barriers to adoption have changed significantly since 2012. In the 2012 Cloud Pulse survey, respondents who didn't use the cloud said existing capital investments in internal IT infrastructure were the main reason they hadn't adopted cloud computing. With sunk costs in legacy IT still depreciating, many couldn't afford to overhaul their infrastructure until the next hardware refresh cycle.
But in 2013, security issues in cloud computing became the top barrier to adoption. Potential cloud customers worry that it's too easy for unauthorized users to access their cloud data and that their data is too difficult to take back if they want to switch providers. High-profile privacy scandals -- such as Edward Snowden's revelations about the U.S. National Security Agency's (NSA's) domestic surveillance program -- have only made companies warier of storing their data in the cloud. A recent survey by Canadian cloud and hosting provider Peer 1 Hosting showed that a quarter of U.K. and Canadian businesses plan to move their data storage outside of the U.S. as a result of the NSA scandal.
View All Photo Stories