News
Stay informed about the latest enterprise technology news and product updates.
Spending plan trends for enterprise data protection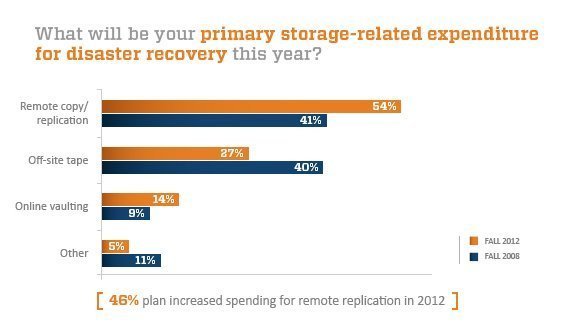 Remote replication is clearly the preferred DR method among respondents to the fall 2012 storage Purchasing Intentions Survey, with 54% of respondents citing it as their primary storage-related expenditure for DR. As expected, remote replication is weighted more heavily among larger companies (those with revenue of more than $1 billion), but even respondents from small companies (those with revenues of less than $100 million) say it's their top DR expenditure (70% of big-company respondents, 59% of midsized-company respondents and 49% of small-company respondents).
Forty-six percent of respondents said they would increase their spending on remote replication in 2012.
Among other disaster recovery methods, spending for off-site storage of tape, meanwhile, continues to drop, with only 27% of respondents citing it as their primary DR expenditure, compared with 40% in the fall 2008 survey.
What explains the increased adoption of remote replication? There are a number of factors. Cloud-based disaster recovery, which makes for relatively easy and cheap DR provisioning, contributes to remote replication's lead, with its rise since 2008 paralleling the growth of remote replication. In addition, many deduplication technologies include remote replication features. And tape-based disaster recovery can't meet a short recovery time objective and presents different security risks than remote replication.
View All Photo Stories