Evaluate
Weigh the pros and cons of technologies, products and projects you are considering.
What your customers want to see in the 2013 cloud marketplace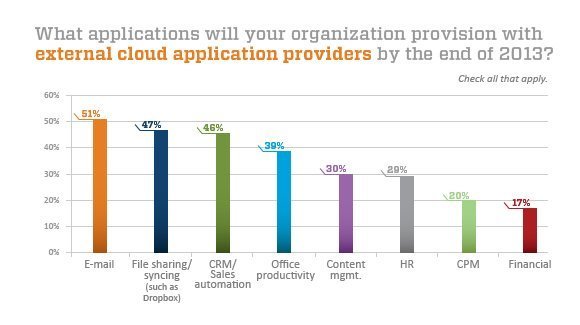 Although businesses are running more applications out of the cloud, certain cloud-based apps are taking precedence when it comes to replacing or supplementing them with cloud-based systems. Email is one such high-priority app that organizations want to see running out of the cloud, with 51% of respondents claiming they'd like to see the change take place by year-end. Organizations have similar aspirations for cloud-based apps for file sharing/syncing and customer relationship management (CRM)/sales automation.
When businesses choose to use cloud, some will swap out existing application deployments for entirely new cloud-based models, while others will use the cloud to simply supplement other legacy, on-premises apps.
Various factors come into play when customers are deciding which apps to move to the cloud, but cloud-readiness plays one of the biggest roles. Not all apps are compatible with the cloud, and customers look to providers to help them assess which apps are more cloud-ready than others. This is a delicate situation for providers that want to make a profit by advocating for cloud-based apps but also want to maintain the trust of customers. Customers trust providers to not lead them astray by suggesting moving an existing app to the cloud that they know would not be high-functioning, and it's important to not betray this expectation. Providers should also take into account which apps organizations most want to see in the cloud -- at the moment, email and CRM -- and evaluate the cloud-readiness of a business's existing apps. This can determine if a business would be better off doing a full migration or starting from scratch with a new SaaS offering.
View All Photo Stories