Evaluate
Weigh the pros and cons of technologies, products and projects you are considering.
What your customers want to see in the 2013 cloud marketplace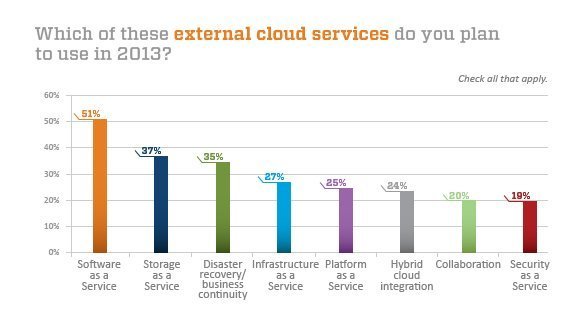 Software as a Service is like the filet mignon of cloud services for providers because it has the biggest profit potential when customers are willing to outsource all aspects of the application lifecycle. This good news is complemented by the fact that customers are very interested in SaaS offerings. In fact, 51.4% of survey respondents claim they intend to use SaaS offerings in 2013. That's the top spot on the list of which cloud services customers are most interested in buying this year.
Influencing the popularity of SaaS are its convenient usage-based pricing models, speedy implementation, stress-free provisioning and its simple manageability. The value of SaaS can hold steady because it adds the most value for customers compared to other "as a Service" products.
SaaS isn't the only service IT pros intend to use, however, with Storage as a Service coming in at a close second, followed by cloud-based disaster recovery (DR)/business continuity services in third. Storage is known for being inexpensive, and customers always take dollar signs into account when it comes to service selection. But providers must be able to add value to cloud storage offerings or risk becoming a commodity. DR is continuing to gain momentum as DR as a Service (DRaaS), or cloud-based DR, is making it more affordable for smaller companies to invest in an otherwise costly technology. If we look back to TechTarget's 2012 Cloud Pulse survey, it's apparent that companies have been eager to dabble with DRaaS over the past year. Just as we predicted back in October 2012, this dabbling has sparked adoption and these dabblers are still very interested in these service in 2013.
View All Photo Stories