Evaluate
Weigh the pros and cons of technologies, products and projects you are considering.
What your customers want to see in the 2013 cloud marketplace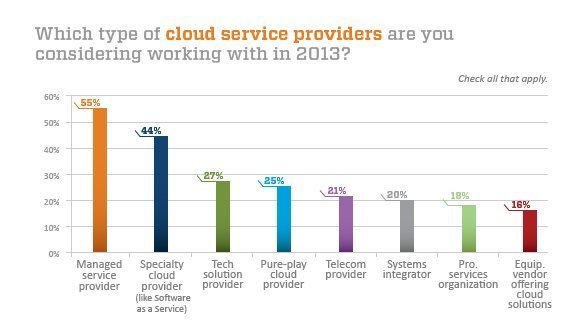 More than half of the IT pros surveyed said they are considering working with MSPs in 2013, and it's safe to assume many of these respondents represent MSPs' core market: small and medium-sized businesses (SMBs). SMBs are typically more inclined to work with MSPs because they don't have the internal expertise to launch their own cloud services, and with all the attention on MSPs this year, it's a good opportunity for providers to partner with them to get a piece of the potential profits.
SMBs have been one of the easier targets for cloud providers because they stand to gain the most by moving to the cloud and typically don't have the same rigorous requirements as enterprise customers.
So why are potential customers gravitating toward MSPs? According to Charles Weaver, CEO of the MSPAlliance, MSPs around the globe have been busy planning for 2013, and SMBs are taking notice. Current plans include the development of new and improved cloud services and enriching vendor relationships. Dreams of obtaining the utmost standards of security are also becoming a reality for MSPs -- something customers value immensely. According to Weaver, many MSPs have taken it upon themselves to add managed security services to their cloud portfolios in order to remain competitive.
A large number of customers also want to work with specialty cloud providers this year, such as Software-as-a-Service providers and pure-play Storage-as-a-Service providers. This comes at a time when customers have narrower demands for cloud applications that cater to specific vertical or horizontal needs. Right now wouldn't be a bad time to start selling services high on customer "wish lists."
View All Photo Stories