Business backup trends: Storage Purchasing Intentions fall 2012 survey results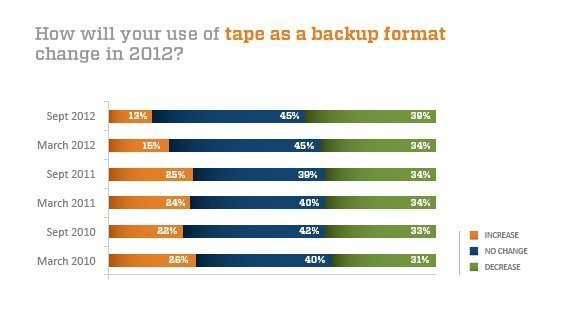 The fall 2012 storage Purchasing Intentions Survey results attest to tape's continuing decline. Thirty-nine percent of survey respondents planned to decrease their use of backup tape drives in 2012 -- the highest number we've ever seen for that question. Conversely, only 13% reported that they would increase their use of tape -- the lowest number we've ever seen for that question.
One technology is poised to stave off or slow the rate of tape's decline: Linear Tape File System (LTFS), a self-describing tape file system that can be read by any computer that runs the LTFS software. It's a potential boon to tape archiving. The format was rolled out in 2010, with LTO-5 tapes supporting the technology. The next generation, LTO-6, has been released by the LTO Consortium, and several vendors are on their way to delivering tape products certified as LTO-6-compliant.
View All Photo Stories