Virtual data center architecture: Storage Purchasing Intentions fall 2012 survey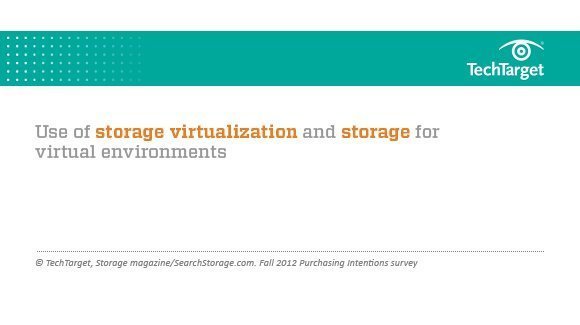 In this third of five reports on Storage magazine's fall 2012 storage Purchasing Intentions Survey results, we examine trends related to storage in the virtual data center. We aimed to discover information about two aspects of a virtual data center architecture: storage for virtual servers as well as storage virtualization. First we asked survey respondents about the platform choices and management challenges of supporting storage for VMs, and then we probed around how many respondents were already using storage virtualization and how many were planning to implement it in 2012.
This survey was directed and analyzed by Rich Castagna, editorial director of Storage magazine and TechTarget's Storage Media Group of websites. It was conducted in September 2012, and respondents were screened for specific storage purchasing authority. There were 702 qualified respondents from among all vertical industries, reporting an average annual revenue of $1.3 billion and an average 1.7 petabytes of data under management on all types of media.
View All Photo Stories