IT budgeting: Storage Purchasing Intentions fall 2012 survey results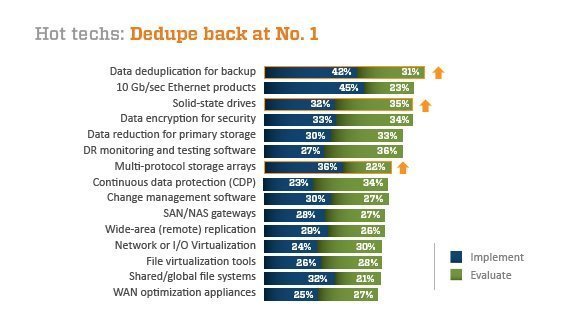 We asked survey respondents to indicate whether they had or would implement, or were actively evaluating or would evaluate, more than two dozen data storage technologies or practices. Their answers placed backup deduplication, 10 GB Ethernet products and solid-state storage as the most likely to be either implemented or evaluated in 2012. Backup dedupe and solid-state storage, as well as continuous data protection, moved up on the chart over the prior survey. Primary storage data reduction, meanwhile, dropped to No. 5 on the list from No. 2 in fall 2011.
More on IT shops' storage Purchasing Intentions
The technologies and practices that were ranked too low to appear on the list above include, in order of most likely to implement or evaluate: automated tiering software (at 50% when combining the implementing and evaluating values), service-level agreements for business units, automated provisioning software, Fibre Channel over Ethernet products, cloud storage services for backup or archiving, e-discovery tools, scale-out NAS, data classification tools, cloud storage services for primary or nearline storage, solid-state caching appliances, chargeback for storage, and LTFS (at 31% when combining the implementing and evaluating values).
View All Photo Stories