pressmaster - Fotolia
Evaluate
Weigh the pros and cons of technologies, products and projects you are considering.
Cloud transition echoes client-server technology shift
Looking back at the shift to client-server technology offers insight into recent activity among large systems integrators and small born-in-the-cloud consulting firms.
When technologies drastically shift, it's often the smaller, specialized companies that gain the early advantage over larger players invested in the status quo.

Download this free guide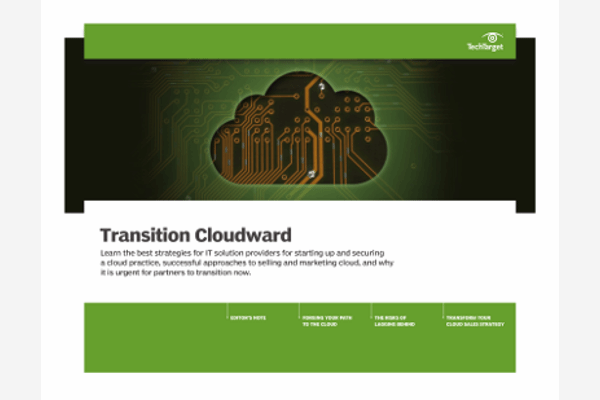 Could Securing Your Channel Business Be Easier? We Can Help.
Download our latest guide to the top strategies solution providers can leverage for starting up and securing a cloud practice, successful approaches to selling and marketing cloud, and why it is urgent for partners to transition now.
That seems to be the case in today's cloud computing transition. The born-in-the-cloud consulting firms stole the march on their larger systems integrator rivals. Now, they've become acquisition targets. And while history may not be repeating itself with this development, there's certainly an echo from an earlier transition: the shift to client-server technology.
For much of the 1980s, the top tier consultants and systems integrators made their money implementing financial management, enterprise resource planning (called MRP II at the time) and other business applications on mainframes and minicomputers. Those companies included the "Big Eight" tax/audit/consulting firms such as Arthur Andersen & Co. and integrators such as Electronic Data Systems. By the end of the decade, however, the economics of downsizing applications to run on less expensive workstations and, eventually, PCs, encouraged customers to transition from mainframes to distributed processing environments.
A group of client-server technology integrators soon materialized in this space to help customers take that leap. Business Systems Group, Cambridge Technology Partners, Lante Corp. and Trecom Business Systems were among the companies to emerge as client-server specialists. The larger firms were slower to arrive, because those companies had to grapple with time-worn methodologies based on large-scale mainframe deployments and higher overhead structures.
The large integrators got there in time, but mainly through hiring and retraining rather than acquisitions. That approach made sense for companies in the habit of training. For example, Accenture, which was still the consulting unit of Arthur Andersen & Co. back in the client-server heyday, made extensive use of the parent company's St. Charles, Ill. training facility, located, suitably enough, on a former college campus. Here, recent college grads learned the company's culture and methodological practices.
"Training was taken seriously at Andersen," noted an article in the Chicago Tribune on the St. Charles training site. "The company annually spent about $240 million, or 6% of its U.S. revenue, on professional education."
The demand for cloud technology is such that integrators appear eager to purchase pools of cloud talent, rather than rely solely on the cultivation of in-house resources.
Other SIs during the client-server technology era also went the training route, rather than pursue acquisitions. Indeed, many of the smaller, client-server integrators continued as independent companies well after the client-server buzz had faded. All of the client-server specialists mentioned above were eventually acquired or folded into other companies. But the buyouts took place at the beginning of the Internet explosion (Amdahl, now part of Fujitsu, bought Trecom in 1996) or after the dot-com bust (Novell Inc. purchased Cambridge Technology Partners in 2001) and SBI & Co. purchased Lante in 2002).
The average age of the client-server technology integrators at the time of sale was around 12 years old.
Fast forward to the present day, and the client-server mavens have been succeeded by the current generation of cloud consultancies, brokers and integrators. In at least one case, the newcomers can trace their lineage directly back to their client-server predecessors: Cloud Technology Partners was founded in 2010 by Chris Greendale, who co-founded Cambridge Technology Partners in 1991.
The key difference in the cloud-era integration arena is the top-tier integrators' willingness to supplement hiring and training with acquisitions. Moves in the past month include Accenture's pending acquisition of Cloud Sherpas, the closing of Computer Science Corp.'s purchase of Fruition Partners and IBM's plan to acquire Meteorix LLC.
The demand for cloud technology is such that integrators appear eager to purchase pools of cloud talent, rather than rely solely on the cultivation of in-house resources. Expertise in specific platforms is of particular interest. Cloud Sherpas focuses on Salesforce, Google and ServiceNow. Meteorix is a Workday shop. Fruition Partners specializes in ServiceNow.
In addition, the integrators are buying younger companies compared with the client-server technology specialists' age at sale. Cloud Sherpas is 7 years old, while Meteorix is 4 years old. The exception among the current group is Fruition Partners at 12 years old.
The recent flurry of activity suggests a sense of urgency among the larger SIs. Unsurprisingly, industry watchers expect the cloud-centric acquisitions to continue.
Dig Deeper on Traditional and emerging business partner models