olly - Fotolia
IT Nation 2015 offers partners a soul cleanse
The star of CNBC's "The Profit" took a personal approach to his keynote at IT Nation 2015, asking partners to open up about their greatest fears and vulnerabilities.
ORLANDO, FLA. -- The final keynote at IT Nation 2015 went in an unexpected direction today as Marcus Lemonis, businessman, philanthropist and star of CNBC reality show "The Profit," pushed attendees into personal and emotional territories.
Exploring the inner struggles of business owners, Lemonis had attendees take the microphone to describe their feelings of inadequacy and deepest fears as leaders. The result was a long session that put some attendees in tears.
Getting others to open up
Lemonis started by talking about a dark time in his life that eventually led him to discover his strengths and business acumen. Telling his story of childhood trauma, self-loathing and loneliness was not to make listeners feel sorry for him, but to make listeners somehow feel connected to him, he said. All of this was with the point of illustrating why he thinks people should do business with people they like and with whom they feel a connection, none of which is possible without showing one's vulnerable side.
"When I'm telling you about all the bad things that happened to me, half of you were probably not paying attention because you were thinking of things that have happened to you and things that you could relate to in any of those things that have happened to me," Lemonis said. "See, you and I ... have a different sort of relationship now, because our relationship is built on one thing: my vulnerability."
When he reveals secrets like the ones he shared, he said he's usually capable of making other people reveal their own vulnerabilities, as well. "I believe ... the reason why I'm successful in business ... is because I can create a connection with people that gets them to be themselves because they've already seen me be myself."
He then turned to the IT Nation 2015 audience and asked them to open up and do the same. "[Being vulnerable with me is] going to tell me what sort of business person I could potentially be in business with, because people, no matter what they say, will do business with people ... they like, connect with and feel like they have some sort of similarity with," he said.
Attendees that Lemonis chose or whom volunteered stood before the many hundreds of peers in the room and shared private experiences. Speaking into the microphone and having their face video projected on an oversized screen, attendees spoke about their brushes with depression, addiction, and suicidal thoughts and feelings, and how they recovered. Listeners applauded their honesty.
'The worst job in the world'
Claiming that business owners and managers should only work with people they like, Lemonis asked audience members to stand up if they have a person who works for them that they wished didn't. Much of the audience rose to their feet.
"I'm very disappointed in you as business owners," he told the standing attendees, "because in my opinion it's your fault ... I'm disappointed because when you own or run a business or manage it, the people [who] work for you are your responsibility, just like your kids are. They come to you for leadership. They come to you because they're putting themselves, their family, their mortgage, their car payments, their kids' tuitions ... in your hands because they're not capable of being leaders like you, or whatever it is you call yourself."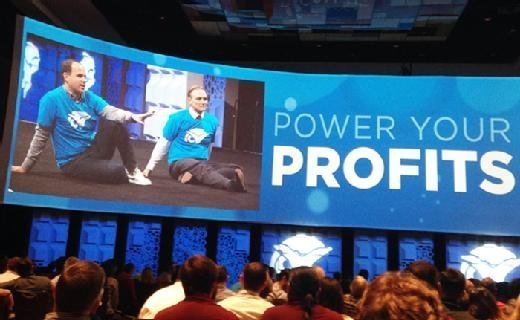 Business owners and managers have the worst jobs in the world, he said, because they have the heavy responsibility for correctly hiring, training, reviewing, placing and paying, and mentoring their employees. "That's what being a leader is about," he said. However, what many people do instead of dealing appropriately with a problematic employee is passively wishing the employee wasn't there.
Before allowing the standing audience members to sit down, Lemonis challenged them to return to their businesses after the conference, be forthright with the troublesome employee and figure out a solution.
Fears of a business owner
After sharing a catalog of his own fears, Lemonis invited audience members to stand up and talk about their biggest fears as business owners. The responses had some common themes.
"[My biggest fear is] that I can't pull it off," one man said, "and that I'm a complete phony and I'm going to let everybody down."
"That I'll wind up letting my family down," said another man.
I really do believe that people are the cornerstone of everything that we do and truly make up who were are, why we do it and how it works.

Marcus Lemonisbusinessman, philanthropist, TV personality
Another man said he was afraid his wife would figure out he's a failure. "She doesn't know, but almost every night I cry."
These admissions seemed to resonate with audience members, as several others stood up to express their fears about failing, letting down family members and letting down employees.
"When things go bad or we lose a client or I have a fight with my business partner and money is really tight, there are moments of just uncontrollable crying," one man admitted.
Lemonis met these admissions with supportiveness as much as he did with well-meaning humor that triggered bursts of laughter.
Listening backstage, ConnectWise CEO Arnie Bellini said the unexpected emotional confessions of many of the attendees brought him to tears. "I had no idea," he said. "I think the thing that really surprised me and made me realize that I've got work to do is there are some people [who] are really hurting out here."
Lemonis wrapped up his keynote by imploring the audience to return to their businesses and do more for their people. "I really do believe that people are the cornerstone of everything that we do and truly make up who were are, why we do it and how it works," he said.